Faith Programs and Retreats

Faith Programs
University Ministry wants to support students of any and all faith backgrounds in their desire to grow with God and with their faith community. A variety of services and group activities are available, in addition to those in the University's Catholic tradition. You don't need to feel alone in your search for God. Be part of a prayer group or bible study, join one of the choirs, volunteer to be a student liturgical minister.
Busy Persons Retreat
 

Video: What is the Busy Persons Retreat?

 

FAQ's

What is a retreat? 

Taking time for yourself-- to rest, to reflect, to pray, to be renewed, to think, for self-care.  Often a retreat is held at a different location than you normally occupy, like a retreat house, or a cabin, or quiet place away from distractions.  The Busy Persons Retreat, because it's designed for people like you who may not be able to physically get away from your life/work for a few days, is held wherever you are.  At your desk, in your car, in your dorm room, in your office, outside, etc. 

How much time will this take?

The Busy Persons Retreat is five weeks long, and begins the week of February 22nd and finishes the week of March 22nd.  Participants are expected to take some time for prayer and reflection several days per week (every day if it's possible, but we encourage you to do it at least 3 days each week.)  You will have a spiritual guide/director assigned to you that you will be expected to meet with once per week during the five weeks. This person will help to guide you personally on the retreat. Their primary goal is to get to know you, and to help you in your spiritual walk, deepening your relationship with God.  

What if I've never prayed, or spent much time thinking about God/religion? 

The retreat will meet you wherever you are in your spiritual journey. If you didn't grow up practicing any religion, no problem.  If you have disassociated yourself with a religion, but still consider yourself spiritual-- no problem. If you are a devout Catholic, or Muslim, or Jew, and want to go deeper-- no problem. If you have some experience with retreats but not a lot-- no problem.  If you are unsure if you believe in God, but are curious as to what this retreat has to offer-- no problem. If you attend church every week and want to ask some questions to a trusted spiritual guide-- no problem. In other words- everyone is welcome, no matter where you are in your journey.  

How can I get more info if have more questions, or if I want to talk to someone more before I sign up? 

Drop by the ministry office (first floor of Shiple Hall by the colorful mural), or email a minister: greigda@udmercy, or call our office (313)993-1560.  We are happy to talk to you more about the Busy Persons Retreat and answer any questions you might have about it.  

Is there a cost for the Busy Persons Retreat? 

No, there is no cost for participants.  

I think I'm ready to sign up.  What do I do? 

I signed up-- now what? 

You will be contacted by University Ministry with more information, as the retreat draws closer.  You will also be assigned a spiritual director/guide and will be given their contact info so you can set up your one-hour sessions. (Sessions begin the week of February 22nd) 

 

Registration

Dates, information, and registration for Fall 2021 BPR will be available soon.
Women's Retreat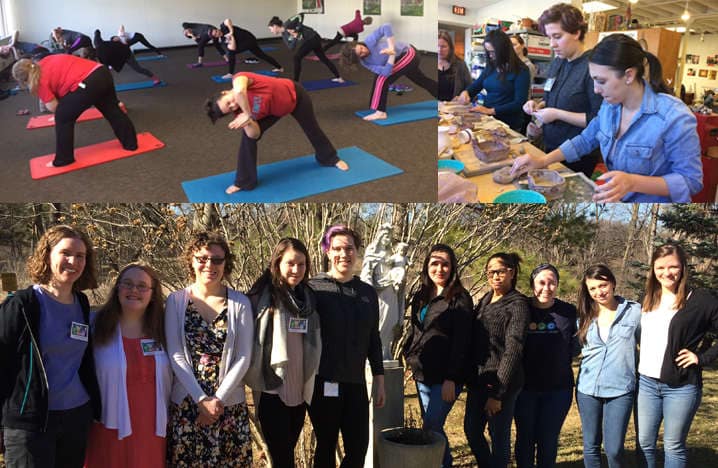 Every year, our Detroit Mercy women gather for a day and/or overnight retreat. It is a time for fun, relaxation, yoga, art, reflection and building community.
Men's Retreat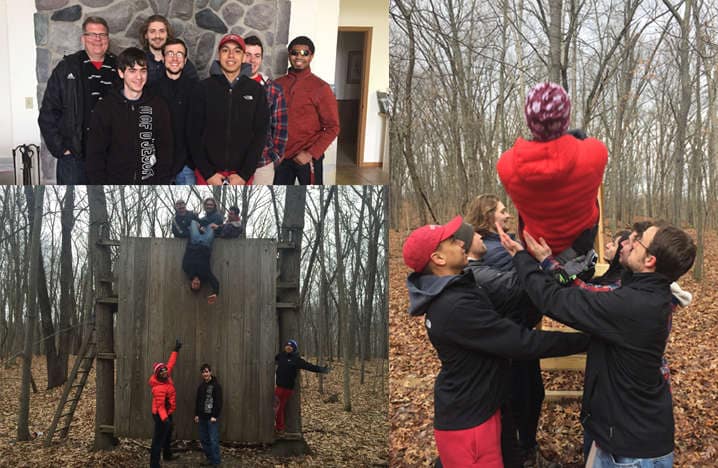 The Men's Retreat is an overnight retreat with time for relaxation, reflection, recreation, and prayer. This year, the retreat will be held in the Irish Hills of Michigan at the De Sales Center where there is a low ropes course, and plenty of trees and trails for exploration.
Dates TBA for Fall 2021. 
Contact Dan Greig with any questions.
Read about our past fall men's retreat on our blog:  ministry.udmercy.edu
Detroit Mercy New Beginnings Retreat
September 18-19, 2021
Who: First-Year, Second-Year and Transfer Students
When: Saturday, September 18 at 10 a.m. to September 19 at 9 p.m. closing with the Sunday Night Student Mass.
Where: St. Paul of Cross Passionist Retreat Center, Detroit
Why: Join for community building, reflection, fun activities and prayer.
Cost: $35 (This can be paid by check or cash to the Ministry Office located in Shiple Hall First Floor)

Questions? Contact: ministry@udmercy.edu or 313-992-1560
 

Christian Life Communities

CLCs are a great way to experience the diversity of Detroit Mercy, reflect on our lives, build community, and explore our faith and spirituality. Through weekly gatherings of small groups of five-eight, CLC creates the space for meaningful friendships rooted in God's love, offering members a spiritual home on campus. The first twelve weeks of CLC offer a chance to build community and explore a deeper understanding and relationship with God through models of Ignatian Spirituality.

University Ministry offers groups that meet in-person or virtually.   Please contact Dan Greig, greigda@udmercy.edu for more info or to join a CLC. 

 

Spiritual Direction

Spiritual Direction is an opportunity for individuals to talk on a regular basis with someone they can trust. This person acts as a guide (sometimes called a spiritual friend, companion, or director) for the journey, helping them to find the presence and call of God in the people and circumstances of their everyday lives. It invites them to develop a deeper relationship with the spiritual aspect of being human.

The University Ministry Office can connect you with a spiritual director/guide at no cost except your time. Once you are connected then you will create your own schedule of times/places to meet on a regular basis for the semester or year. We welcome students of all faiths. For more information please contact one of our spiritual directors, or ask us in our office.

 

Prayer Resources

Never enough time for prayer? Try some of the following links to get you in a prayerful mood from right where your sitting.