Faith Programs and Retreats

Faith Programs
University Ministry wants to support students of any and all faith backgrounds in their desire to grow with God and with their faith community. A variety of services and group activities are available, in addition to those in the University's Catholic tradition. You don't need to feel alone in your search for God. Be part of a prayer group or bible study, join one of the choirs, volunteer to be a student liturgical minister.
Busy Persons Retreat 
If you are a busy person, but would like to take one hour out of your week to focus on your spiritual life, then the Busy Persons Retreat is for you.  Each Sunday in October, participants will receive a video reflection, and some questions to think about.  Then, you schedule a one-hour meeting with your assigned spiritual director to talk about your life, and how you can direct your mind and heart toward God that week.  That's it.  This retreat is for students and faculty and staff. REGISTRATION IS CLOSED.
Women's Retreat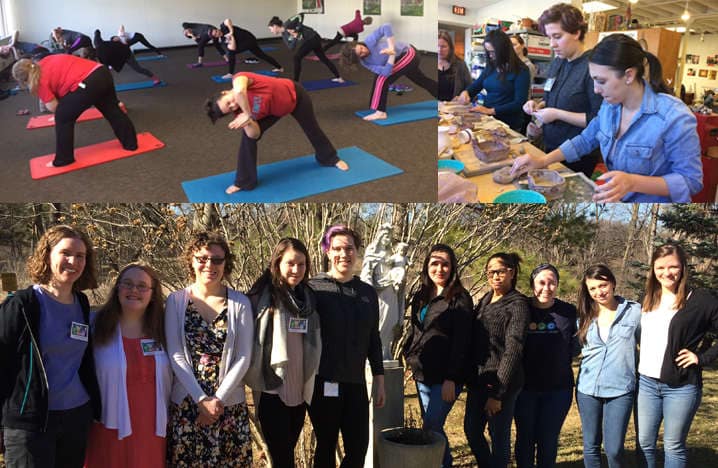 Every year, our Detroit Mercy women gather for a day and/or overnight retreat. It is a time for fun, relaxation, yoga, art, reflection and building community.
Men's Retreat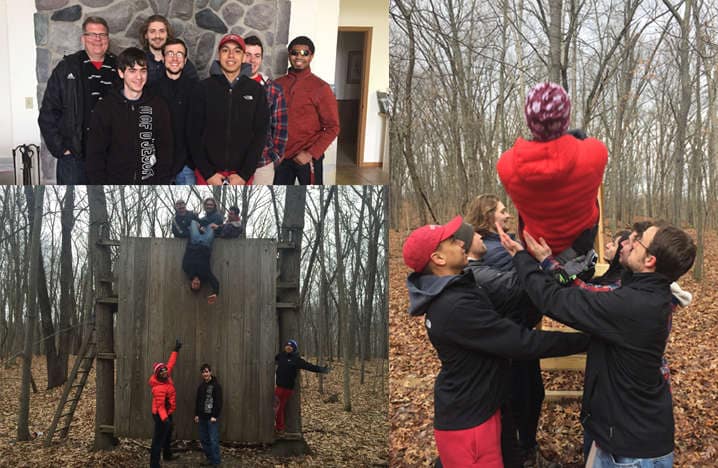 The Men's Retreat is an overnight retreat with time for relaxation, reflection, recreation, and prayer. This year, the retreat will be held in the Irish Hills of Michigan at the De Sales Center where there is a low ropes course, and plenty of trees and trails for exploration.
Dates TBA for 2020-21.
Contact Dan Greig with any questions.
Read about our past fall men's retreat on our blog:  ministry.udmercy.edu
First Year Retreat: New Beginnings
The First Year Retreat: New Beginnings is a time for community building, small group reflection and prayer. The retreat takes place before the academic school year begins and registration opens over the summer.
This experience is a wonderful way to make friends on campus early in the year and to ask the question, "Who am I?," "Who do I want to become?" and "Where is God in the midst of all this transition?" Students will be part of small groups that will be invited to meet virtually once a week for six weeks following the event to continue building relationships and creating a sense of belonging at Detroit Mercy.
Transfer students are welcome to attend!
For questions or concerns, please contact University Ministry Director Anita Klueg at kluegag@udmercy.edu.
 

Christian Life Communities

CLCs are a great way to experience the diversity of Detroit Mercy, reflect on our lives, build community, and explore our faith and spirituality. Through weekly gatherings of small groups of five-eight, CLC creates the space for meaningful friendships rooted in God's love, offering members a spiritual home on campus. The first twelve weeks of CLC offer a chance to build community and explore a deeper understanding and relationship with God through models of Ignatian Spirituality.

University Ministry offers groups that meet in-person or virtually.   Please contact Dan Greig, greigda@udmercy.edu for more info or to join a CLC. 

 

Spiritual Direction

Spiritual Direction is an opportunity for individuals to talk on a regular basis with someone they can trust. This person acts as a guide (sometimes called a spiritual friend, companion, or director) for the journey, helping them to find the presence and call of God in the people and circumstances of their everyday lives. It invites them to develop a deeper relationship with the spiritual aspect of being human.

The University Ministry Office can connect you with a spiritual director/guide at no cost except your time. Once you are connected then you will create your own schedule of times/places to meet on a regular basis for the semester or year. We welcome students of all faiths. For more information please contact one of our spiritual directors, or ask us in our office.

 

Prayer Resources

Never enough time for prayer? Try some of the following links to get you in a prayerful mood from right where your sitting.