Detroit Mercy Theatre Company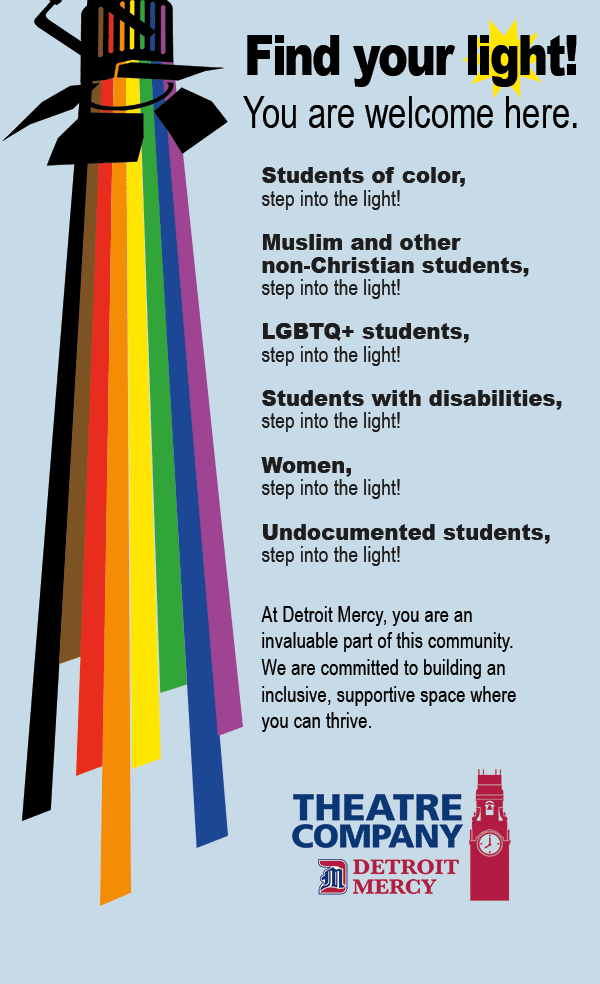 Detroit Mercy Theatre Company (DMTC) is a collective of artists composed of students, faculty, staff and professional guest artists producing gritty and relevant theatre that entertains and awakens the imagination. Our mission is to train students to develop their intellectual, ethical and practical skills for a creative future. 
DISCOVER productions that explore courage, compassion and connection. Watch how our students COLLABORATE to investigate diverse perspectives with integrity and professionalism. Observe up-and-coming artists hone their SKILLS through compelling performances. Witness how MENTORSHIP unlocks our students' potential. Observe how young scholars apply classroom theory to stage-time practice leading to FUTURE OPPORTUNITIES.
2021-2022 | Season 51: Resist, Laugh, Love
144 years of theatre in Detroit!
Tickets go on sale October 1, 2021.
Theatre Major Information Video.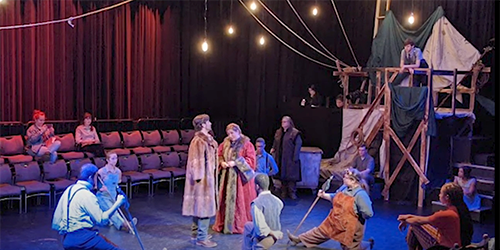 Interested in studying Theatre at Detroit Mercy? 
Make sure to audition for our Talent Scholarship!
 

Performance Venue: The Marlene Boll Theatre

The Marlene Boll Theatre is the home of The Detroit Mercy Theatre Company.

Address: 1401 Broadway Street, Detroit, Michigan 48226

Located inside the Boll Family YMCA, the Marlene Boll Theatre is an intimate theatre space in the heart of downtown Detroit.  Fantastic restaurants, energetic bars, and historic architecture surrounds this thrust style performance space.  You're invited to make an evening of dining, entertainment, and night caps in beautiful downtown Detroit.  Awaken your imagination at with a Detroit Mercy Theatre Company performance! Seating is limited and general admission. Reserve your tickets today!


Inside The Marlene Boll Theatre.  The above picture is a view from stage right/house left.


Inside The Marlene Boll Theatre.  The above picture is a view from the main section.

 

Ticket Office Information and Prices

Contact us

Reno Hall Ticket Office
4001 West McNichols Road  (Livernois entrance)
Reno Hall, Lower Level, Room 43
Hours: TBD
theatre@udmercy.edu
313-993-3270

The Ticket Office will open at The Marlene Boll Theatre 45 minutes prior to curtain and will stay open through intermission of each performance. Tickets can be ordered by phone or online.

Ticket Prices

Season Ticket Packages

Season ticket packages

| | |
| --- | --- |
| Includes Antigone, The Norwegians, The Addam's Family Musical |  Rate |
| Adult Ticket Package | |
| Senior Ticket Package | |
| Faculty/Staff and Alumni Ticket Packages | |
| Student and Veteran Ticket Pages | |

---

Individual Ticket Packages

Individual ticket packages

| | | |
| --- | --- | --- |
| | Play | Musical |
| Adult Ticket | $25 | $30 |
| Senior Tickets | $18 | $22 |
| Faculty/Staff and Alumni Tickets | $18 | $22 |
| Student and Veteran Tickets (with valid ID) | $10 | $15 |

---

Other Ticket Prices

Other ticket prices

| | |
| --- | --- |
| Community Nights | Play ticket: $10   Musical ticket: $15 |

---

*Please note that a $2 service fee is included in each ticket to cover ticket and processing costs.

 

Theatre Company Policies

Policies

Accessibility: The Boll Family YMCA is accessible to people using wheelchairs or with restricted mobility. Wheelchair accessible seats are available at The Marlene Boll Theatre.  Please contact the Detroit Mercy Theatre Company Ticket Office prior to performance to make arrangements.

Cameras and Recording Devices: Patrons' private use of cameras, with or without flash, and the private use of recording devices is prohibited. No audio or video equipment of any kind is allowed in the theatre. The Marlene Boll Theatre and the Detroit Mercy Theatre Company Management reserves the right to confiscate equipment for the duration of the performance or evict violators when necessary. Exceptions may be made for news media, or other production media when advance arrangements are made with the Detroit Mercy Theatre Company Management.

Cell Phones and Personal Electronic Devices: Please turn all personal electronic devices and cell phones OFF (not to vibrate).  The House Manager will ask you to turn off your device during the show.  Please note our policy on Objectionable Patrons.

Children (infants): The Detroit Mercy Theatre Company Management believes in exposing young people to theatre and the arts at an early and appropriate age. However, management encourages the following guidelines:

In all cases, infants and babes in arms are not permitted. 

All attendees of a performance, regardless of age, are required to have a ticket 
and be able to sit in a theatre chair or a wheelchair. 

Adults who bring small children into the theatre who become disruptive to 
surrounding patrons will be asked to leave the theatre. 


Exchanges: For tickets of equal or greater value, contact the Ticket Office at least 24 hours before the performance.  Any ticket returns within 24 hours of a performance will be processed as a donation for a tax receipt.  Exchanges only permitted for another performance during each season.  A service charge of $3.00 per ticket applies.  Any difference in price will be charged accordingly.

Food and Beverage: Food and drink are not allowed inside of the Marlene Boll Theatre.

Hearing Assistance Devices: The Marlene Boll Theatre is not equipped with a hearing assistance program. 

Late seating policy: There will be no late seating after 10 minutes from the start of any performance and at the discretion of the house manager. Late patrons can receive a tax receipt for the value or exchange for another performance.

Lost and Found: Any items found in the facility will be held at the front desk of the Boll Family YMCA, and can be recovered with appropriate identification (if necessary). After 14 days, all items will be donated.

Objectionable Patrons: The Marlene Boll Theatre and the Detroit Mercy Theatre Company Management reserves the right to eject, or cause to be ejected from the premises any person or persons whose behavior is offensive to other patrons or whose actions are harassing in nature, or whose actions are harmful to the facilities and the safety and security of other persons.  The Boll Family YMCA Management will not be liable to Patrons for any damages that might incur through the execution of this right.

Smoking: Smoking is prohibited in all YMCA of Metropolitan Detroit buildings including the Boll Family YMCA.

Tickets are non-refundable: Tickets may be turned in prior to the performance and applied as a donation to The Theatre Company to receive a tax receipt for their value or exchanged for another performance - see below.

Unpaid Tickets:  All unpaid ticket reservations will be released back to the public 5 minutes prior to performance time.

 

Parking Information

Street Parking

Street parking is available around The Marlene Boll Theatre at the Boll Family YMCA. Please follow all street parking signs.  Free Parking on Sundays. Consider paying for your street parking with parkdetroit.us.

Best Option

$7 flat parking at the The Z Lot: Entrances on Grand River Ave. and Gratiot Ave.
Patrons parking at The Z Lot will use a credit card to enter the structure and park.  While at the Theatre Company performance patrons need to collect a The Z Lot coupon for the $7 parking rate.  Present coupon while checking out of the parking structure to receive $7 parking rate.

Other Options

Greektown Casino – Free parking most days. Walk 6 blocks to the Boll Theatre or take the People Mover to the Broadway stop. NOTE: As of spring 2020, Detroit People Mover service was suspended until further notice (due to pandemic-related reduced ridership). Check ahead on thepeoplemover.com.

MGM Grand Casino  – Free parking. Then Uber or Lyft, $6-$10 each way

Motor City Casino – Free parking. Then Uber or Lyft, $6-$10 each way

Mario's Italian Restaurant – Free Shuttle if you dine before the show. 4222 Second St. 313.832.1616 call for reservations and details.

Validated parking

Validated parking is available by dining at these establishments:

Hard Rock Café - 45 Monroe St (Validates for free parking at the Compuware Parking Garage)

Wright & Co.  - 1500 Woodward Ave (The Z Lot)

Standby - 225 Gratiot Avenue (The Z Lot)

Joe Muir Seafood – GM Ren Cen (People Mover to the Broadway stop)

Andiamo Detroit Riverfront - GM Ren Cen (People Mover to the Broadway stop)

Granite City Food & Brewery - GM Ren Cen (People Mover to the Broadway stop)

 

Restaurant Partners

Audience members who show a ticket or program from the day of a Theatre Company performance will receive up to 50% off food and beverages.  Offers vary by restaurant.

La Feria - Spanish Tapas: 10% off entire bill

The Detroit Beer Co: 50% off Appetizers and $1 off draft beers

Traffic Jam and Snug: 10% off Entrees

 

Become a donor

Ticket sales pay for only 60% of our production costs. With the help of devoted theatre supporters and the generosity of grant makers we are able to close the gap and continue to excel in ways only our theatre can. Help us continue our tradition of outstanding theatre at an affordable price by pledging a contribution today.

Below is our Donor Levels for 2021-2022. Tax-deductible contributions provide better productions for our students and audience. Scholarship contributions are needed as well and go directly to the students to help with educational costs.

Your gift to the Detroit Mercy Theatre Company qualifies as an itemized tax deduction under federal law and as a tax credit under Michigan law. Your generous support truly makes a difference in the quality of programs we are able to offer. To make a donation or for more information please contact Managing Director Greg Grobis at 313-993-3269.

2021 - 2022 Donors

Angel ($5,000-and up)

Anonymous
Thomas E. Page '71, '76
Matt Williams and Angelina Fiordellisi

Producers ($1,000-$2499)

Greg Grobis
Dave Koukal and Sharon Vlahovich

Directors ($500-$999)

Don Burkholder
Ilse Calgagno
Doris A. Goleniak
Cheryl A. Harvey
Barbara and Edward Klarman Philanthropic Fund
Robert Rogowski and Claire Boyce
Rene Saenz & Two Men and a Truck
Heather Hill and Stephen Manning

Sponsors ($250-$499)

Anonymous
Keegan-Michael Key
Gary D. Lichtman
Gary and Mary Markwardt
Brigette R. Murphy-Barbee and Richard Barbee

Contributors ($100-$249)

Dr. Blair Anderson and Melinda Pacha
Mark Denham and Karen Tumblin
Neville D'Sousa
Alex & Patricia Gajewski
Tom Jensen
Delvin Johnston
Maurice Kenney
Dr. James Louis McDonald
Harriet Saperstein
Judith G. Shirley

 

Sponsors

The Detroit Mercy Theatre Company announces new sponsorship levels for their 2021-2022 season. For more information about becoming a sponsor please contact Managing Director Greg Grobis at 313-993-3269.

 

Past productions

University of Detroit Mercy

PRODUCTION HISTORY (1971– 2021)

Award Winning Productions & World, Midwest or Michigan Premieres

Overview: 33 award-winning shows, 66 Premieres, 241 productions

The Tempest – Child's Play – Lysistrata – You're A Good Man Charlie Brown – All That Fall – A View From the Bridge – One Flew Over the Cuckoo's Nest – Comedy of Errors – Of Mice and Men – Abelard & Heloise – The Horse – Luv – Rashomon – Othello – Wizard of Oz – Dylan – Tess of the D'Urbervilles – Little Me – A Midsummer's Night's Dream – Blood Wedding – The Trial – Godspell – Arsenic and Old Lace – The Me Nobody Knows – Macbeth – Charley's Aunt – Inquest – Trojan Women – Two Gentlemen of Verona – House of Blue Leaves – U.S.A – A Cry of Players – A Streetcar Named Desire – Taming of the Shrew – Boys in the Band – Brig – Vanities – The Runner Stumbles – Christmas Carol – Lower Depths – Little Mary Sunshine – Irma La Douce – Benito Cereno – Caucasian Chalk Circle – Imaginary Invalid – Moonchildren – As You  Like It – Fantasticks – Medal of Honor Rag  – Great White Hope – Private Lives – Once Upon a Mattress – Medea et la Force de Voodoo – American Buffalo – Captain Cook – Light Up the Sky – La Ronde – Devour the Snow – Effect of Gamma Rays on Man-In-The-Moon Marigolds – Apple Tree – Butley – Terra Nova – Arms and the Man – Home – Man of La Mancha – Lady From Dubuque – Waltz of the Toreadors – Heat – Amahl and the Night Visitors – Waiting for the Parade – Kismet – Wise Child – Philemon – Paul Robeson – Come Back to the Five & Dime, Jimmy Dean, Jimmy Dean – Mass Appeal – Tartuffe – Glass Menagerie – Concerning Poor B. B. – What I Did Last Summer – Lion in Winter – Boesman and Lena – Mister Roberts – Talking With – Accidental Death of an Anarchist – Wizard Oz – Holy Ghosts – Creeps – Who's Afraid of Virginia Woolf – On the Verge – Bury the Dead – Loot – A Taste of Honey – Grandma Duck is Dead – Orphans – Malice Aforethought: The Sweet Trials – Cradle Song – Wild Honey – Foreigner – Lily Dale – Total Abandon – Servant of Two Masters – Two – Enter Laughing – Strange Snow – Shooting Stars – A Different Moon – Talk Radio – Rosencrantz and Guildenstern are Dead – T-Bone 'N Weasel – Early One Evening at the Rainbow Bar and Grille – Two by Two – Vital Signs – Boys Life – In the Belly of the Beast – Museum – Speed of Darkness – Lloyd's Prayer – Rimers of Eldritch – Criminal Hearts – Women in Bars – White Rose – Dresser – A Hero Ain't Nothin' But a Sandwich – Jugger's Rain – Pick Up Ax – Woyzeck – Tent Meeting – Six Women With Brain Death – Steel Magnolias – Gravity of Honey – Roomers – Day Room – 5 Women Wearing the Same Dress – Love Letters – All in the Timing  - My Sister in this House – Time of Your Life – Drinking in America – On the Open Road – Sly Fox – Below the Belt – Home Fires – Greensboro: a Requiem – Zara Spook and Other Lures – Little Joe Monaghan – Blue Window – A Lie of the Mind – Steward of Christendom – Chekhov – Wayside Motor Inn – Biloxi Blues – Death of a Salesman – Skylarks – Dumb Winter  - King Korn Trio – The Lark – Stop Kiss – Brutality of Fact – Between Daylight and Boonville – Race – Last Train to Nibroc – Sand Mountain – Member of the Wedding – The Children's of Fact – Grandma Duck is Dead – Frannie's Way – Runner Stumbles – Diviners – Lobby Hero – Glory of Living – Robber Bridegroom – Moonlight Room – Cycling Past the Matterhorn – A Patch of Earth – Godspell – Our Town – Sez She – Of Mice and Men – Polish Joke – Malice Aforethought: The Sweet Trials – Urinetown – Glass Menagerie – Back of the Throat – And Neither Have I Wings to Fly – The Play About the Baby – The Sunshine Boys – How I Learned to Drive – Speech and Debate – The Threepenny Opera – The Winning Streak – The 25th Annual Putnam County Spelling Bee – Recent Tragic Events – Unheard Voices - Trying – Keely and Du – Cabaret – A Life in the Theatre – The Tempest – Eleemosynary – Anatomy of Gray – Dogman's Last Stand – Autobahn – None of the Above – The Empire Builders – Wings – A Cabaret Showcase – Jordan Anderson Writes A Letter – Pvt. Wars – This Is How It Goes – Somebody/Nobody – Memory House – The Best of Enemies – It's A Wonderful Life: A Live Radio Play – Alexander and the Terrible, Horrible, No Good, Very Bad Day – The Whale – It's A Wonderful Life: A Live Radio Play – Low Hanging Fruit – An Evening With David L. Regal – Alabama Story – 100 Saints You Should Know – Bus Stop – Avenue Q – Preview 47 – A Bright Room Called Day – A Bright New Boise – The Complete History of America (abridged) – Preview 48 - Wittenberg - War of the Worlds The Panic Broadcast – American Privilege – Young Frankenstein – Silent Sky – Ebenezer – A Midsummer Night's Dream – You're A Good Man, Charlie Brown – Project TikTok – Mock Theatre Production – Hitchcocked! An Audio Serial – One Act Play Festival - Antigone - The Norwegians - The Addam's Family Musical