Did you know that Fulbright and Fulbright-Hays programs offer awards for faculty, administrators, and students to connect with scholars and institutions abroad?
The Fulbright Program operates in more than 155 countries worldwide and has provided over 300,000 awards to study, teach, or conduct research and collaborate abroad. Competitive grants are awarded annually in most academic disciplines and fields of study. This page includes information and links to help you consider an award that is right for you.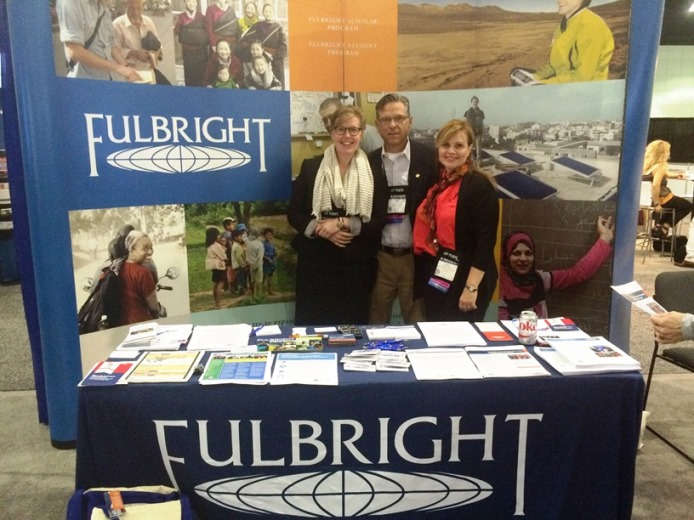 From left:  Lora Seery, Senior Program Manager at Institute of International Education (Fulbright); Alan Grigg, Assistant Professor and Chair of Teacher Education, Detroit Mercy; Lara Wasner, Director of Language & Cultural Training, Detroit Mercy.
 

Fulbright Scholar Program Overview and Frequently Asked Questions

The Fulbright Scholar Program offers opportunities for scholars, artists, and professionals to conduct research, teach, or consult with other scholars and institutions abroad. 

Fulbright opportunities include: 

Teaching, Research, Teaching/Research, and Professional Awards
Distinguished Scholar Awards
Global Scholar Programs
International Educator Programs
Visiting Scholar Programs
Flex Programs
Fulbright Hays Group Projects Abroad

Sign up for Fulbright notifications. By joining My Fulbright, you will be notified of the latest program updates, webinar schedules, helpful resources, and suggestions for application assistance. https://apply.iie.org/register/scholar_inquiry

My Fulbright also allows you to specify your areas of interest by country or world region, as well as relevant disciplines.

Review Frequently Asked Questions below to learn answers to questions about award types, eligibility and application criteria, program duration, whether one is required to apply for a Research Leave, information about pay and benefits, important conversations to have, and other considerations. For additional information and support, contact the Fulbright Scholar Liaison for assistance.

The Fulbright Scholar Liaison at the University of Detroit Mercy is Lara Wasner wasnerle@udmercy.edu (313) 993-1191.

Frequently Asked Questions About Applying for a Fulbright Award:

1. I am interested in learning more about Fulbright Scholar awards. Which award might be right for me?

Begin an award search at the Fulbright Scholar home page: https://cies.org/us-scholar-awards 

Types of awards include Teaching, Research, Teaching/Research, Professional projects, and more. 

Fulbright programs range from a few months to a full year and many of our awards offer flexible durations. Each award outlines the duration and potential start dates.

Click here for a list of awards that allow for a Flex option.

2. How do I apply?

The application procedure is outlined here: https://cies.org/us-scholar-awards#application

3. As a McNichols faculty member, will I need to request a Research Leave to apply for a Fulbright award?

No, faculty do not need to apply for a Research Leave. However, they should discuss plans for applying with their chair/discipline coordinator and Dean of the College or School to ensure an absence is manageable based on the department or division's needs.

Please note: School of Law and School of Dentistry faculty should contact their Dean's office to determine the protocol for applying. The University Fulbright Liaison is available to support Corktown and Riverfront faculty interested in applying.

4. What if the Fulbright Scholar salary is not the same as the salary I currently make?

The University views the Fulbright Scholar Award as an honor and will support the faculty member who receives the award. The University will make up the difference if the award is less than the faculty's salary. Fulbright awardees retain all their University benefits during the award period specified by Fulbright.

5. What other critical conversations should I have once I decide to apply?

In addition to sharing plans with their department chairperson/discipline coordinator and Dean, faculty are encouraged to reach out to their university's Fulbright Scholar Liaison (FSL) and Fulbright Scholar alumni from their university for support. Names of alumni can be found at https://www.udmercy.edu/academics/academic-affairs/fulbright/index.php

The University's FSL can help with an initial award search, clarify Fulbright eligibility, review application criteria and components, confirm submission deadlines, locate a Fulbright program administrator overseeing a particular award, and connect you with Fulbright campus alumni.

Fulbright alumni from the University can support applicants by offering application tips, insights about research, teaching, and collaborating overseas, and considerations for traveling abroad.

Fulbright alumni from outside the university are also available to provide support, research area expertise, and information about a particular country/region of interest. https://cies.org/fulbright-scholar-directory

6. As a faculty member, will my time towards promotion be affected by this award?

No.

7. When are applications due?

The annual national Fulbright Scholar deadline is September 15 unless otherwise specified. https://cies.org/us-scholar-awards#timeline  Fulbright deadlines are firm. The application, all supporting materials, and letters of recommendations must be submitted by this date.

8. Will I submit my own application?

Yes, faculty prepare their Fulbright application and supporting documents and submit them using the links provided in the Fulbright Scholar application portal. 

https://cies.org/us-scholar-awards#application

https://apply.iie.org/apply/?sr=7e8eadc1-501d-4f16-bd75-ddc3040e5f0f

9. What other resources are available to me as I prepare my application?

In addition to the Fulbright Scholar Liaison and Fulbright campus alumni, Fulbright webinars are archived and available on demand. https://cies.org/events/webinars#past

View a recent Fulbright virtual campus recording featuring University of Detroit Fulbright alumni who share tips about the application process and insights about research and collaboration abroad.

https://iie-org.zoom.us/rec/share/-KeLA-QVxNAzd0ltGEFyL-p6Idsvvh8m3xF2MT3RvYKR85dUrd3EsTmy8RQ56M-H.6NTB8NNB6WRDBc7A

10. When can I expect to be notified about an award?

The review period can take anywhere from 3-6 months. A Fulbright program administrator will notify applicants about awards via the email they provided in their application. After the award recipient confirms acceptance, communications from Fulbright will provide information about funding details, how to prepare for the journey abroad, and reporting that may be required when faculty return.

11. Who at the University do I notify when I receive my award notification?

Notify your Dean, department chair/discipline coordinator, Fulbright Scholar Liaison, Office of the Provost and Academic Affairs, and Detroit Mercy MarCom by email to share the news about your Fulbright award! Your department chair/discipline coordinator or Dean may advise you to meet with Department of Human Resources personnel for additional conversations.

12. If I do not receive an award, how long must I wait to reapply?

If you are not selected, you may reapply for a Fulbright Scholar award the following year.

13. If I have already received a Fulbright award, can I apply for another Fulbright award? How long must I wait to reapply?

Fulbright places no limit on the number of awards one can receive. However, one cannot be awarded two years in a row. A Fulbright Scholar must wait two years after receiving an award to apply for a new one.

14. I am interested in pursuing a Fulbright award, but I am not faculty. What other Fulbright opportunities are available?

Fulbright International Education Administrator (IEA) awards provide international education professionals and senior higher education officials an opportunity to engage in a two-week intensive seminar to learn about the host country's education system and establish networks of U.S. and international colleagues. https://awards.cies.org/

In addition to IEA awards, short-term Seminars Abroad are available to eligible educators in the arts, social sciences and humanities. To learn about these awards, visit https://www2.ed.gov/programs/iegpssap/index.html

 15. Can retired faculty apply for a Fulbright award?

Yes.  

 16. Do I need to submit any paperwork to the University when applying for a Fulbright award or program?

The university does not require any internal paperwork be submitted for individual Fulbright Scholar awards. However, as a courtesy, a discussion with a department chair or discipline coordinator and Dean is recommended.

There is no need to submit Office of Sponsored Research Activities (OSPRA) paperwork unless applying for a Fulbright Hays Group Project Abroad or another type of group bilateral project*https://www2.ed.gov/programs/iegpsgpa/index.html

If applying for a Group Project Abroad or group bilateral project, notify the Office of Sponsored Research to review institutional document requirements and to discuss submission deadlines. https://www.udmercy.edu/academics/academic-affairs/ospra/index.php)

17. I still have questions regarding Fulbright Scholar awards, like the kind of projects I can propose, whether I can bring my family, housing arrangements, stipend information, and payment disbursement details if awarded a Fulbright. Where can I find this information?

To review additional Frequently Asked Questions, visit https://awards.cies.org/

 

 

Fulbright U.S. Student Program Overview

More than 1,800 Americans receive grants to study, research or teach abroad with full or partial support from the Fulbright Program. The Fulbright U.S. Student Program offers fellowships for U.S. graduating college seniors, graduate students, young professionals and artists to study, conduct research or teach English abroad. In addition, Critical Language Enhancement Awards are available to grantees for study of critical need foreign languages before or during their grant period.

For more information about the Fulbright Student Program, see the Fulbright Student Program Website.

The Fulbright Officer for student programs at the University of Detroit Mercy is Dr. Karen Lee leekm@udmercy.edu

 

Detroit Mercy Fulbright Alumni and Testimonials

Detroit Mercy Fulbright Scholars:

Victor Carmona, Distinguished Lecturer, 2020-2023, Department of Biology, College of Engineering and Science
Mohan Krishnan, Slovenia, Department of Mechanical Engineering, 2020, College of Engineering and Science
Roseanne Burson, Ireland, Term II, 19/20, McAuley School of Nursing, College of Health Professions
Claire Crabtree, Romania, Terms I & II, 94/95, Department of English, College of Liberal Arts and Education
Nihad Dukhan, Turkey, Terms I & II, 14/15, Department of Mechanical Engineering, College of Engineering and Science
Carla Groh, Iceland, Term II, 03/04, McAuley School of Nursing, College of Health Professions
Jacqueline Hand, India, Term III, 91/92, School of Law
Suk Kim, Korea, Term II, 91/92, College of Business Administration
Lorri MacDonald, Georgia, Term I, 13/14, Department of Education, College of Liberal Arts and Education
Tony Martinico, Poland, Terms I & II, 07/08, School of Architecture
Gail Presbey, India, Term II, 04/05, Department of Philosophy, College of Liberal Arts and Education
Greg Sumner, Italy, Term II, 00/01 and Term II, 09/10, Department of History, College of Liberal Arts and Education
Lara Wasner, China, Term III, 09/10, Department of Language and Cultural Training, College of Liberal Arts and Education

Detroit Mercy Fellows from the Group Project Abroad to Brazil in 2016 include the following:

Lara Wasner, Brazil, Term III 15/16, Department of Language and Cultural Training, College of Liberal Arts and Education
Roy Finkenbine, Brazil, Term III 15/16, Department of History, College of Liberal Arts and Education
Renady Hightower, Brazil, Term III 15/16, Department of Health Services Administration, College of Health Professions
Alan Grigg, Brazil, Term III 15/16, Department of Educations, College of Liberal Arts and Education
Ann Eskridge, Brazil, Term III 15/16, Department of English, College of Liberal Arts and Education
Gail Presbey,  Brazil, Term III 15/16, Department of Philosophy, College of Liberal Arts and Education

Detroit Mercy Fellows from the Group Project Abroad to Brazil in 2018 include the following::

Charles Cross, Brazil, Term III, 17/18, Detroit Collaborative Design Studio, School of Architecture
Renady Hightower, Brazil Term III, 17/18, Department of Health Services Administration, College of Health Professions
Daniel Kroupa, Brazil Term III, 17/18, Department of History, College of Liberal Arts and Education
Lara Wasner, Brazil Term III, 17/18, Department of Language & Cultural Training, College of Liberal Arts and Education

"I was a Fulbright visiting professor twice at the Universita di Roma Tre. To say it was a life-changing experience is an understatement. I learned more about being an American from my Italian students (whose English was often as shaky as my Italian) than I could from all the books in the library. It felt good, too, to be a 'good-will ambassador,' which basically means interacting with your hosts on an open, democratic, human level."

— Greg Sumner, J.D., Ph.D.
Professor, Department of History

"I have often told my students that a 'good teacher can teach anywhere, anytime, with limited materials.' My semester in Georgia working with faculty from universities across the country forced me to make good on that claim. Spending a semester working outside my comfort zone expanded my skills, enriched my life, and helped me to make learning more meaningful for my students."

— Lorri MacDonald, Ed.D.
Associate Professor and Chair, Department of Education

"I enjoyed my Fulbright experience immensely. I thought I would teach the students about the world, but I also learned about the world from them. During my tenure as a Fulbright Scholar in Korea, I gave a number of highly successful talks to both American and Korean executives about U.S.-Korean relations. I spent a considerable amount of time to prepare these special lectures in advance upon the advice of the Fulbright Foundation in Korea. This experience taught me an important lesson: Preparation and opportunities create successes. The Fulbright Program is meant to serve as a bridge, and it did just that."

— Suk Kim, Ph.D.
Professor of Finance, College of Business Administration

"I had a two-year long Senior Scholar Fulbright to Nairobi, Kenya (1998-2000), where I taught Philosophy at University of Nairobi. I had classes with 140 students sandwiched in the classroom, and I was also able to direct masters' theses in Philosophy. I also had a chance to engage in research in African philosophy, by going out to the rural areas and interviewing wise elders there, as part of a 'Sage Philosophy' project. I also received a six month Research Fulbright to Pune, India (2005), where I had the chance to study Gandhian thought and activism, and to interview quite a few lifelong Gandhi activists, some of whom had met Gandhi personally. These were rare and invaluable experiences in my growth as a scholar. I also, as a Detroit Mercy faculty member, applied for a Fulbright Scholar in Residence grant to bring a scholar from Nairobi, Kenya (Dr. Oriare Nyarwath) to visit and teach here for five months in 2008. He taught our students African philosophy and logic, and the students gained much from hearing his perspectives on issues. He also gained new perspectives through his American experience, and he had time to work on his own academic writing while he was here."

— Gail Presbey, Ph.D.
Professor, Department of Philosophy

"This summer-long intensive seminar allowed me to participate in a shorter-term option with a grand impact, as the university continues to welcome Chinese international students and looks to increase our partnerships with Chinese universities. During the five-week intensive program, I traveled to six cities in China and visited more than a dozen schools and universities to better understand Chinese history, culture, and classroom culture of Chinese students. This immersive experience provided firsthand information and insights into the educational, political, and economic reforms happening in Chinese contemporary society and the global impact of these reforms as they affect higher education in the United States."

— Lara Wasner, M.A., M.A.TESOL
Director, Department of Language and Cultural Training