The Jesuit Community at Detroit Mercy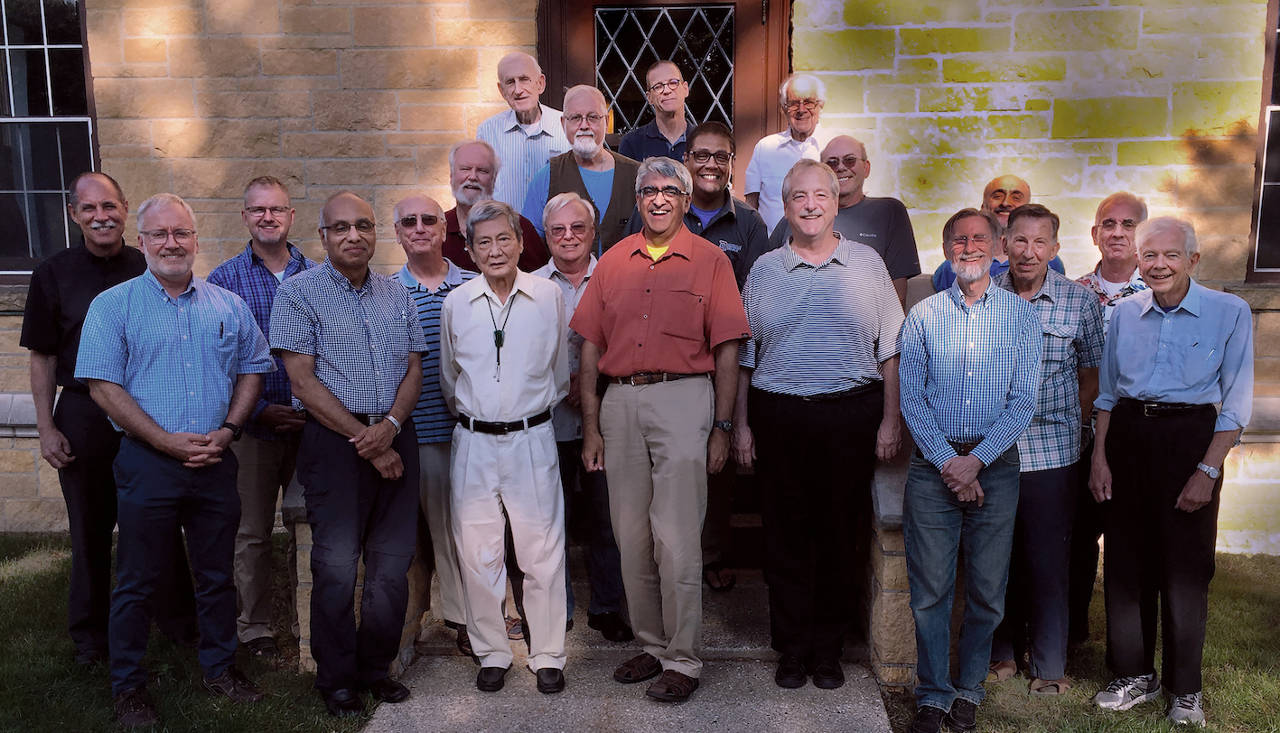 A Community Always Seeking God's Will
The Jesuit community at Detroit Mercy is where Jesuits live as friends in the Lord at the service of mission.
Because our fraternal bonds proclaim the Gospel, our community itself is a mission. 
Here at Detroit Mercy, Jesuits live out their vocation, in part, at Lansing-Reilly Hall on Detroit Mercy's McNichols Campus. Currently, the Jesuit community consists of 16 Jesuit priests, two Jesuit brothers, one Jesuit regent while four priests reside elsewhere for the benefit of their apostolic work. Though some Jesuits serve as faculty and staff at the University, others are parish priests, addiction counselors, retreat directors, development officers, spiritual directors, seminary professors, social workers, visual and performing artists, homeless relief providers and immigrant/migrant advocates. 
Our collaboration with the laity at Detroit Mercy and in Detroit, flows from our personal relationships with Christ. We see ourselves as companions of Jesus, and we invite others to join us as friends in the Lord. Together, we build up the body of Christ. With our friends and partners, we also reach out to a broadly diverse world because that is where we find God. From experience and reflection, we know meaning, value and divine purpose can be discovered "in all things." 
"The real measure of our Jesuit universities,
lies in who our students become."
Peter-Hans Kolvenbach, S.J. former superior general of the Society of Jesus
 

The Jesuit Community

Rev. Gerry Albright, S.J. retired professor of biology

Rev. Jerry Cavanagh, S.J. professor of management and Charles T. Fisher III Chair of business ethics, University of Detroit Mercy

Rev. Phil Cooke, S.J. pastor, Gesu Parish

Rev. Peter Etzel, S.J. associate pastor, Gesu Parish

Rev. Mark George, S.J. Clinical Pastoral Education (CPE) and weekend pastoral supply


Rev. Si Hendry, S.J. director, Catholic Studies Program; teacher, religious studies and philosophy; coordinator, 19th annotation retreats for faculty and administrators at University of Detroit Mercy

Rev. Tim Hipskind, S.J. co-director, Institute for Leadership and Service; director, Service Learning at University of Detroit Mercy

Br. Dick Hittle, S.J. certified addictions counselor; writer for "Human Development" a publication of Guest House

Rev. Steven Hurd, S.J. retreat/spiritual director and director of Internship in Ignatian Spirituality, Manresa Jesuit Retreat House

Rev. Justin Kelly, S.J. associate professor of religious studies, University of Detroit Mercy

Rev. Tim McCabe, S.J. director, Pope Francis Center

Rev. Joel Medina, S.J. adjunct clinical instructor, McAuley School of Nursing; Hispanic ministry; chaplain, St. Joseph Mercy Oakland

Rev. Raph Shen, S.J. professor of economics, University of Detroit Mercy

Rev. John Staudenmaier, S.J. sabbatical (2019); consultant, University of Detroit Mercy

Rev. Gilbert Sunghera, S.J. superior of Jesuit community; associate professor of architecture, University of Detroit Mercy

Mr. Damian Torres-Botello, S.J. 3rd year Jesuit regent; outreach and audience development, Detroit Mercy Theatre Company

Rev. Don Vettese, S.J. pastoral and spiritual ministries, St. Joseph Mercy Oakland, St. John Providence Hospital in Novi and Washtenaw County Jail; consultant, Not-for-Profit Advancement

Br. Denis Weber, S.J. minister of Jesuit community; social worker, Pope Francis Center

Rev. Gary Wright, S.J. pastor, Saints Peter and Paul Jesuit Church

Members of this Community Residing Elsewhere

Rev. James Hug, S.J. chaplain, Adrian Dominican Sisters

Rev. Mike McDermott, S.J. professor of theology, Sacred Heart Major Seminary

Rev. Peter Ryan, S.J. professor of moral theology, Sacred Heart Major Seminary; director, College Spiritual Formation

Rev. Cy Whitaker, S.J. professor and spiritual director of seminarians, College of Theology at Sacred Heart Major Seminary

Additional Staff

Mrs. Ruth Fichter bookkeeper and guestmaster

Mrs. Pam Pipas, R.N. health care coordinator

 

Jesuit Residence Location

Home of the Jesuit Community

University of Detroit Mercy

Lansing-Reilly Hall

4001 W. McNichols RoadDetroit, MI 48221-3038

 

Universal Apostolic Priorities

Universal Apostolic Preferences are the fruit of a process of discernment lasting almost two years. All Jesuits were invited to take part and in addition our mission partners. It concluded with a confirmation from Pope Francis in a special meeting with Fr General Arturo Sosa. The Preferences give a horizon, a point of reference to the whole Society of Jesus. They capture our imaginations and awaken our desires. They unite us in our mission. The new Preferences are four areas vital for our world today. The Society of Jesus will pay special attention to them in the next ten years. We invite you to learn more and take action with us! We want to make a Gospel difference.

Showing the way to God: Show the way to God through the Spiritual Exercises and discernment. Read more.
Walking with the Excluded: Walk with the poor, the outcasts of the world, those whose dignity has been violated, in a mission of reconciliation and justice. Read more.
Journeying with the Youth: Accompany young people in the creation of a hope-filled future. Read more.
Caring for our Common Home: Collaborate, with Gospel depth, for the protection and renewal of God's Creation. Read more.

To learn more about our Universal Apostolic Priorities, visit the global Jesuit website. 

 

Links to Jesuit Works in Detroit
Do You Have a Calling to Serve Christ?
Pray. Discern. Imagine.
The Society of Jesus is the largest order of priests and brothers in the Catholic Church. Founded almost half a millennium ago by the soldier-turned-mystic, St. Ignatius of Loyola, along with the First Companions, Jesuits seek to "find God in all things." Jesuit priests and brothers are involved in educational, pastoral and spiritual ministries around the world, practicing a faith that promotes justice.
As Jesuits, 
we observe and engage the sensitive movements of God within us and we learn to make decisions that reflect God's will. For over 450 years, the Jesuits have served at the world's frontiers, always working for the greater glory of God.
2019-2020 Lansing-Reilly Jesuit Community: front row: Tim McCabe, Joel Medina, Raph Shen, Gilbert Sunghera (community superior), Peter Etzel, Gary Wright, Dick Hittle, Jerry Cavanagh; second row: Tim Hipskind, Phil Cooke, James Hug, Don Vettese, Damian Torres-Botello, Steve Hurd, Mark George, Cy Whitaker, back row: Si Hendry, Justin Kelly, John Staudenmaier, Denis Weber (community minister), Gerry Albright; not pictured: John McDermott and Peter Ryan