Faith Programs and Retreats
Faith Programs
University Ministry wants to support students of any and all faith backgrounds in their desire to grow with God and with their faith community. A variety of services and group activities are available, in addition to those in the University's Catholic tradition. You don't need to feel alone in your search for God. Be part of a prayer group or bible study, join one of the choirs, volunteer to be a student liturgical minister.
 

Christian Life Communities

CLCs are a great way to experience the diversity of Detroit Mercy, reflect on our lives, build community, and explore our faith and spirituality. Through weekly gatherings of small groups of five-eight, CLC creates the space for meaningful friendships rooted in God's love, offering members a spiritual home on campus. The first twelve weeks of CLC offer a chance to build community and explore a deeper understanding and relationship with God through models of Ignatian Spirituality.

University Ministry offers groups for Catholics, Interfaith, Women, Men or Mixed Gender.

Register with the CLC application online. Visit the University Ministry Office, in the Student Center across from the bookstore, or contact us at 313-993-1560.

 

Spiritual Direction

Spiritual Direction is an opportunity for individuals to talk on a regular basis with someone they can trust. This person acts as a guide (sometimes called a spiritual friend, companion, or director) for the journey, helping them to find the presence and call of God in the people and circumstances of their everyday lives. It invites them to develop a deeper relationship with the spiritual aspect of being human.

The University Ministry Office can connect you with a spiritual director/guide at no cost except your time. Once you are connected then you will create your own schedule of times/places to meet on a regular basis for the semester or year. We welcome students of all faiths. For more information please contact one of our spiritual directors below, or ask us in our office. 

Spiritual Directors: 

Sr. Mary Kay Dobrovolny, RSM (Mercy Sister)  mkdobrovolny@mercywmw.org  402-889-0359

Fr. Tom Florek, SJ     tfloreksj@gmail.com

Fr. Mark George, SJ  mgeorgesj@gmail.com

Fr. Steve Hurd, SJ     shurd@jesuits.net

Fr. Justin Kelly, SJ     kellyjj@udmercy.edu

Fr. Gilbert Sunghera, SJ   sunghegi@udmercy.edu

Fr. Joel Medina, SJ    joelmedianbc@gmail.com

Damian Torres-Botello, SJ   torresdg@udmercy.edu

Fr. Weber, SJ     didalentz@gmail.com

 

Prayer Resources

Never enough time for prayer? Try some of the following links to get you in a prayerful mood from right where your sitting.
Retreats
Busy Persons Retreat
Need time out from your busy schedule?
Desire an opportunity to reflect on your life and where you are going?
Want to grow in your prayer life?
The Busy Persons Retreat is a personalized 4 week retreat that meets only once a week for 30 minutes,  tailored to meet your schedule, in the tradition of Mercy and Ignatian spirituality. Take 30 minutes a day for prayer and reflection, and meet weekly with a spiritual guide at a time and place convenient for you. Please register online or at the Ministry Office at least one week before the retreat.
If you'd like further information, contact University Ministry at 313-993-1560 or at ministry@udmercy.edu.

Ministry Mondays
Join our community as we gather for dinner, prayer and discussion Monday from 7:30 to 9 p.m. in the Shiple Hall's Young Martyrs Chapel.  All are welcome as we grow in our faith together, learning who Christ is and how we can more closely follow Him.
Day-long retreats
We are planning day-long retreats for those students who can't commit to an overnight retreat, but would still like to grow spiritually, and reflect on how God is working in their life.
Women's Retreat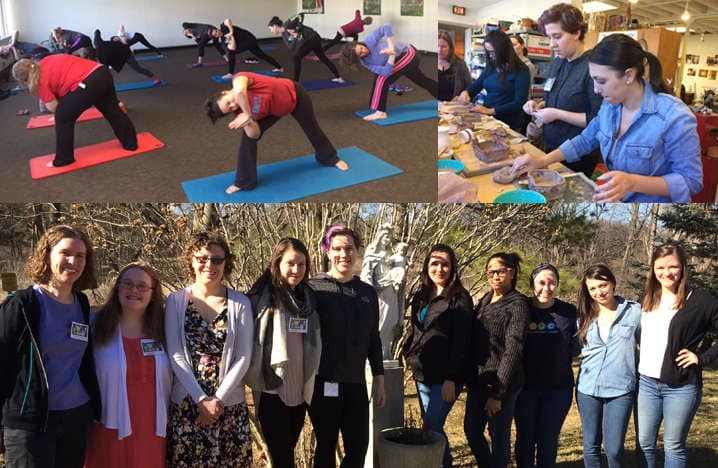 Join University Ministry from February 8-9 for a weekend away to unwind, meditate through yoga and art, share words of wisdom as women and build community.
Friday, February 8th at 6:30 PM to Saturday, Feb 9th at 9 PM
Mercy Center in Farmington Hills
Cost: $20 (financial aid available upon request)
For: Students (Detroit Mercy undergrad & grad women) and Faculty/Staff
Theme: Mary and Martha: Balancing Reflection and Action
Meals and snacks included
Please submit this application and your deposit by Friday, February 1st in the Ministry Office (Student Center, across from the bookstore.
Questions contact: Julia Erdlen erdlenjk@udmercy.edu or Anita Klueg kluegag@udmercy.edu