Managing websites with Cascade CMS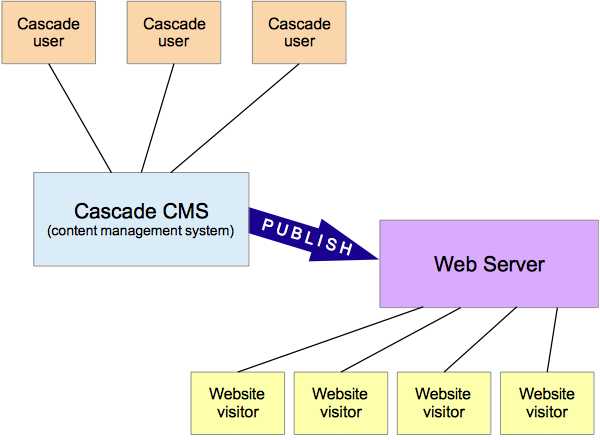 To maintain the content of our primary websites, the University uses Cascade CMS, a Web content management system.
Cascade allows users to edit and update webpages for their area. Changes exist only within the CMS until they are published to the live Web server that delivers content to our website visitors.
Who needs access to Cascade?
You do, if you want to update website content in:
www.udmercy.edu
architecture.udmercy.edu
business.udmercy.edu
dental.udmercy.edu
dentalpatients.udmercy.edu
eng-sci.udmercy.edu
healthprofessions.udmercy.edu
law.udmercy.edu
liberalarts.udmercy.edu
Cascade access means you can change a public University website.  As this is a risky and important task, there are two main steps you must take before you can be approved for Cascade access:
Submit an account application form to the Information Technology Department (ITS).
Complete our Cascade training.
Details on each are below.
Submit ITS account application form
Step 1: Specify Action on form
To get Cascade access, an authorized supervisor must first follow the ITS Employee Account Application Process. This includes submitting a supervisor-signed application to the ITS Department. (Note: The Account Application form is used for other purposes besides Cascade access. Contact ITS if you have any questions about the Employee Account Application form or process.)
For Cascade CMS access, fill out the form as instructed here.
In most cases, as the form's "Action," you'll select "Change to Account" (see image). The exception is if you're applying for a newly-hired employee, in which case you'd select "New Account". In either case, then continue to Step 2.

Step 2: Fill Web Development section
Find the "Web Development" section on page 2 of the form (shown below). First, put a checkmark in the "Content Management System" checkbox.

Then, under, "Identify site for management", specify what in particular the employee needs to edit, such as the address from your Web browser. For example, for access to:
the entire College of Business Administration website, put in:
"business.udmercy.edu"
the undergraduate Accounting section, put in:
"business.udmercy.edu/programs/undergraduate/accounting/"
a single page, put in the page's address from your Web browser.
Cascade is simple to use in some ways, but there are also many ways to get confused. Successful completion of our Cascade training is required before Cascade access will be granted. (You can do training concurrently with submitting your ITS Account Application.)
For basic content updates (text changes), you can complete a video and quiz.  The video is about 90 minutes and the quiz is closely linked to it. We recommend looking over the quiz before watching the video.
Here is the link to the training video and a quiz


Watch the video
Take the quiz
And last, let morganjk@udmercy.edu know when the training is complete

Training may be in person, individually or in groups, contact marcom@udmercy.edu to schedule help.
Marketing & Communications (MarCom) can enable you in Cascade only after:
ITS has approved and processed your account application.
You've successfully completed our Cascade training.
All users are given the minimum Cascade access and abilities needed to update the website content they are responsible for. (This prevents the possibility of users making big mistakes.)
Most Cascade users should only update existing pages. The following activities carry additional complications or requirements, and so we ask you to contact MarCom and let us help you:
Add pages to a site
Add files to a site (such as images, PDF documents, etc.)
Move, rename, or delete pages or files
Some other complications you may not think of involve things like:
filename requirements and conventions,
site structure and navigation issues,
asset publish status,
orphaned files or pages, etc. 
Again, MarCom is happy to help you with tasks beyond updating individual pages that are already in the website.  Please contact us to do things the right way, and avoid causing problems that will take time to clean up or even make our site unusable.