Office of Academic Affairs
The Office of Academic Affairs provides leadership and management of academic programs to carry out the academic mission of the University of Detroit Mercy.
Academic Affairs oversees the Office for Sponsored Programs and Research Activities (OSPRA), Institutional Review Board, Office of Institutional Research, Academic Leadership Team and Faculty Advising.
Last Lecture Series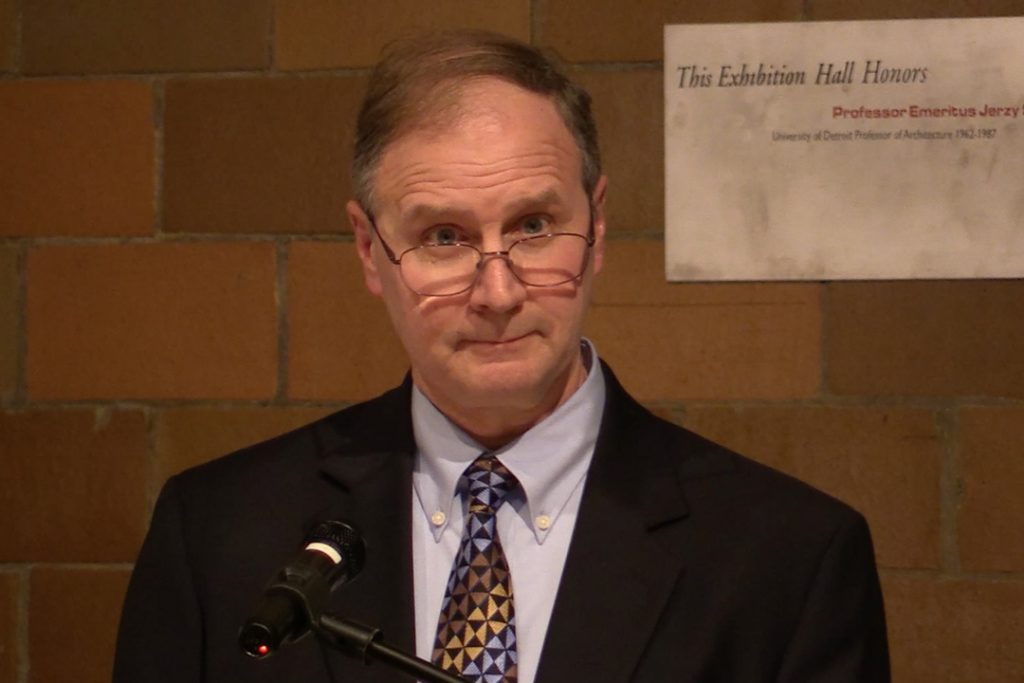 For years, the Honors Program at Mercy College of Detroit had the tradition of a "Last Lecture," a talk at the end of the school year that challenged or inspired students and faculty in new ways. In 2002, the Last Lecture was reintroduced to University of Detroit Mercy's Honors Program and in 2014 the Office of Academic Affairs began the tradition of having these lectures presented to the entire University community.
In the Last Lecture given this year, Professor of Religious Studies James B. Tubbs examines what it means to live gratefully. Read the full transcript online.
 

Contact Academic Affairs

Pamela Zarkowski
Provost & Vice President for Academic Affairs
Location: Fisher Administration Center (FAC) 500
Phone: 313-993-1585
Fax: 313-993-1534
Email: pamela.zarkowski@udmercy.edu

Christina Socha
Administrative Assistant to the Provost
FAC 500
Phone: 313-993-1586
Fax: 313-993-1534
Email: christina.socha@udmercy.edu

Lisa E. Zessin
Special Assistant to the Provost
FAC 500
Phone: 313-993-1469
Fax: 313-993-1534
Email: lisa.zessin@udmercy.edu

Shelley Wagnon
Director of Institutional Research
FAC 500
Phone: 313-993-1588
Fax: 313-993-1534
Email: hrynczsm@udmercy.edu

Catherine R. Caldwell
Director of the Office of Sponsored Projects and Research Activities
FAC 500
Phone: 313-993-1544
Fax: 313-993-1534
Email: catherine.caldwell@udmercy.edu

Marjorie A. Lang
Title IX Coordinator and Equity and Compliance Specialist
FAC 500
Phone: 313-993-1802
Fax: 313-993-1534
Email: langma@udmercy.edu

Susan M. Trudeau
Director of the Student Success Center
3rd Floor Library
Phone: 313-993-3383
Fax: 313-578-0342
Email: trudeasm@udmercy.edu

Emilie A. Gallegos Wetherington
Director of Disability Support Services
3rd Floor Library
Phone: 313-578-0310
Fax: 313-578-0342
Email: gallegem@udmercy.edu

J. Timothy Hipskind, S.J.
Director of Service Learning
Institute for Leadership & Service
Briggs 232
Phone: 313-993-2003
Fax: 313-993-1509
Email: hipskijt@udmercy.edu

Kathleen Zimmerman-Oster
Director of Research, Evaluation and Leadership Development
Institute for Leadership and Service
Reno 232
Phone: 313-993-1137
Fax: 313-993-1509
Email: zimmerka@udmercy.edu

Diane M. Praet
Associate Vice President and University Registrar
FAC 80
Phone: 313-993-3313
Fax: 313-993-3317
Email: praetdm@udmercy.edu

Elizabeth B. Roberts-Kirchhoff
Director of Assessment
Chemistry Building 109
Phone: 313-993-1021
Fax: 313-993-1534
Email: robkires@udmercy.edu

 

Academic Affairs Organization Chart

 

Colleges and Schools

University of Detroit Mercy's seven colleges and schools offer more than 100 respected undergraduate, graduate and professional programs. Each provides a wealth of resources for advising, academic research and professional development. Visit their websites for more information about programs and faculty.

Additional program opportunities

 

Academic Support Services

 

Program/Course Related

 

Policies

 

Accreditations and Memberships

Vital to the University's public accountability are its accreditations. The University of Detroit Mercy is fully accredited by the North Central Association of Colleges and Schools, 30 North LaSalle Street, Suite 2400, Chicago, IL 60602-2504. 1-800-621-7440

The University is listed by the Board of Regents of the University of the State of New York and by the Department of Public Instruction of the State of Pennsylvania among their registered institutions.

Detroit Mercy Colleges and Schools Accreditations

 

Resources

 

Annual Report and Probationary Review Forms

 

Interdisciplinary Programs

 

Title IX

Title IX of the 1972 Education Amendments (Title IX) is a federal law that states:

"No person in the United States shall, on the basis of sex, be excluded from participation in, be denied the benefits of, or be subjected to discrimination under any education program or activity receiving federal financial assistance."

See the Title IX page for more information and other policies/procedures.