Latest News
Detroit Mercy partners with institutions in China for Engineering and Financial Economics education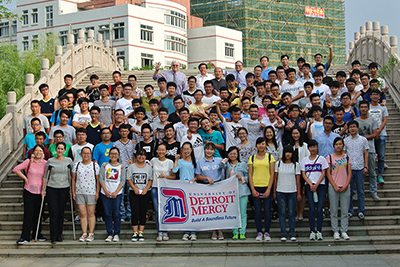 University of Detroit Mercy is partnering with two prestigious Chinese universities to bring a cohort of students to Detroit this fall. While here, the students will work in Detroit Mercy's state-of-art labs with renowned faculty, and earn their bachelor's and master's degrees.
"This gives us a lot of name recognition in China" said Shuvra Das, professor of Mechanical Engineering and director of International Programs for the College of Engineering & Science. "Other schools working with Chinese universities include Rutgers, Michigan, NYU and Duke. In China, we have the same name recognition and stature as those schools."
The Beijing University of Chemical Technology (BUCT) will send approximately 50 students and Yancheng Institute of Technology (YIT) will send more than 20 students.
Featured videos
Detroit Mercy Dental Class of 2017 President Horacio Falcón soars high with his degree, despite life challenges. "Detroit Mercy gave me a chance to fulfill my dreams, and I'm very thankful. Therefore, I'll be staying in Michigan and the Detroit area. I can't wait to be part of the alumni group and give back to help others fulfill their dreams the way Detroit Mercy helped me."
John Staudenmaier, S.J., delivered a powerful talk at a gathering of the Jesuit Alumni & Friends of Detroit, discussing ways to "pray from where you are" – in the here and now.
Detroit Mercy in the News
Alumni News
Magazine features Detroit Mercy's work in the community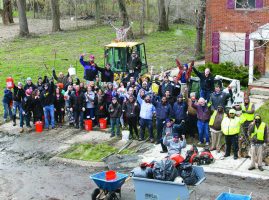 The Hub Detroit, a free monthly magazine telling the stories of Detroit's neighborhoods featured Detroit Mercy's many community programs in its August issue. In an article titled "Breaking Barriers: University strives to meld with community," Detroit Mercy President Antoine M. Garibaldi, Ph.D., talks about the unique relationship the University and …
A class in civil rights takes students where the movement started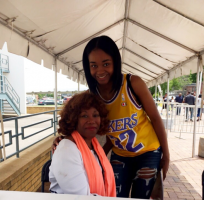 By Stevie Jones, Class of 2017 A group of seven Detroit Mercy students and two of their professors gathered at the statue of Jesus on the McNichols Campus and said a prayer asking for safe travels during their journey south. The group was embarking on a weeklong travel course to …