Office of the President
About Antoine M. Garibaldi, Ph.D.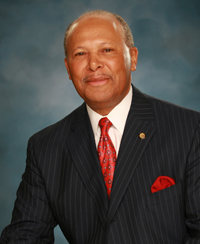 Dr. Antoine M. Garibaldi is the 25th President of University of Detroit Mercy, a Catholic, Master's Comprehensive University sponsored by the Society of Jesus (Jesuits) and the Religious Sisters of Mercy. Founded in 1877 by the Jesuits, University of Detroit consolidated in 1990 with Mercy College of Detroit, which was founded in 1941 by the Religious Sisters of Mercy. University of Detroit Mercy is the largest Catholic university in Michigan and has more than 5,100 students in undergraduate and graduate academic programs, including professional programs in Architecture, Dentistry and Law. Dr. Garibaldi is the first lay president of the University and a tenured Professor of Education.
Since June 2011, he has led Detroit Mercy in accomplishing numerous enrollment, retention, academic, institutional, fundraising and community engagement goals. For the 17th consecutive year, Detroit Mercy was ranked in the top tier of universities in the Midwest Region in the 2018 edition of U.S. News & World Report's "Best Colleges." Detroit Mercy ranked No. 19 and was the only university in Michigan to be listed in the top 25. The University also earned a No. 12 ranking for Best Colleges for Veterans in the Midwest Region and was ranked No. 32 nationally for Best Value Schools. Additionally, the University ranked No. 188 out of 1,054 universities in the U.S. in the 2018 edition of the Wall Street Journal/Times Higher Education college rankings.
During his tenure, more than $88 million has been raised towards a $100 million campaign goal. Additionally, $33 million has been received for several significant grants, including a $1.3 million five-year grant; a $1.5 million grant from the Ford Foundation; a $750,000 three-year grant from the W.K. Kellogg Foundation; a five-year $21.2 million BUILD grant from the National Institutes of Health (NIH) in collaboration with three other Detroit colleges and universities; and two first-time ever grants from the United States Department of Education: a five-year $1.1 million Student Support Services Program grant and a five-year $1.3 million Upward Bound grant. In 2015, an economic development organization, the Live6 Alliance, was co-founded with The Kresge Foundation to focus on strengthening the Livernois Avenue and McNichols Road commercial corridor in Northwest Detroit.
Nationally recognized for his more than three decades of teaching, scholarly work and administrative experience in education and the federal government, Dr. Garibaldi is a Fellow of both the American Psychological Association and the American Educational Research Association and the author of eleven books and more than 90 research articles and chapters. His 2014 article, "The Expanding Gender and Racial Gap in American Higher Education," was published in Howard University's The Journal of Negro Education. In 2015, he was selected among Crain's Detroit Business "100 Most Connected People in Detroit."
A longtime leader in national higher education organizations, he currently serves on the boards of the: Association of Governing Boards' (AGB) Council of Presidents; Association of Jesuit Colleges and Universities' (AJCU) Executive Committee; Georgetown University; Horizon League Athletic Conference, which he chaired from 2013 to 2015; and Michigan Independent Colleges & Universities (MICU) Executive Committee. Locally, he is a member of the boards of Brother Rice High School; Detroit Institute of Arts (DIA); Detroit Metro Convention & Visitors Bureau Board and Executive Committee; Detroit Police Chief's Community Advisory Board; Invest Detroit; Live6 Alliance; and New Detroit, Inc. He is a member of Alpha Phi Alpha Fraternity, Inc. and Sigma Pi Phi Fraternity. He currently serves on the Grand Commission on Historically Black Colleges and Universities Committee of Sigma Pi Phi.
Dr. Garibaldi has previously served on numerous boards and committees including: University of Saint Thomas (MN); Detroit Amazon Headquarters II Bid Committee; United Way for Southeastern Michigan Campaign Cabinet; National Association of Independent Colleges and Universities (NAICU), where he was Secretary of the Board; Co-Chair for the Children/Youth Development, Education and Recreation Subcommittee of the Detroit Mayor-elect's Transition Team in 2013; American Council on Education, where he was Secretary of the Board; National Association of College and University Business Officers; U.S. Conference of Catholic Bishops National Review Board; Association of Independent Colleges and Universities of Pennsylvania; Council of Independent Colleges (CIC), which he chaired from 2006 to 2008; NCAA Division II Presidents Council (2005-09) and Chair of the NCAA's Executive Committee Subcommittee on Gender and Diversity. Dr. Garibaldi was also Chairman of the Board of Directors of the American Association for Higher Education (AAHE) in 2001-02 and served on the Board from 1995-2003. Additionally, he is a former member of the American Council on Education's Commission on Leadership and Institutional Effectiveness, Wheeling Jesuit University's (WV) Board of Directors, and Seton Hall (N.J.) University's Board of Directors and Board of Regents. He served as Chairman of the Grand Social Action Committee of Sigma Pi Phi Fraternity in 2006-08, Vice Chairman in 2008-10, and was a member of the fraternity's Education Commission from 2010 to 2012 and the Commission for Young African American Males in 2012 to 2014.
Prior to joining University of Detroit Mercy, Dr. Garibaldi was the sixth President of Gannon University for nine and a half years from 2001 to 2010. During his tenure, enrollment increased by 24 percent – more than 830 students – to 4,238 students; the endowment more than doubled; more than $40 million was raised for the largest comprehensive campaign in Gannon's history, which included more than $31.5 million in private gifts, two first-ever multi-million dollar federal grants from the U.S. Department of Education, major grants from the National Science Foundation and other foundations, and more than $5 million of federal and state grants to establish the Erie Technology Incubator. Additionally, during his decade at Gannon, more than thirty buildings were constructed, acquired and renovated; and the University was ranked for seven consecutive years in the top tier of Northern Best Regional Universities by U.S. News & World Report's "America's Best Colleges" in its 2005-2011 editions. Gannon was also ranked in the Great Schools, Great Prices category for five years and as a Top Up-and-Coming School in 2009.
He has received numerous honors, including four honorary doctorates from Our Lady of Holy Cross College (LA), Seton Hall University, Gannon University and University of Saint Thomas (MN); the Outstanding Achievement Award from the University of Minnesota; the Howard University Alumni Award for Distinguished Postgraduate Achievement in the field of education; the Papal honor of Knight of St. Gregory the Great; the National Service Award from the International Salute to Dr. Martin Luther King, Jr.; "Person of the Year Award" from the University of Notre Dame Club of Erie; and the Michigan Chronicle's 2013 Men of Excellence Award.
Some of his previous professional positions include: Senior Fellow in the Office of the Vice President for Collaborations and Corporate Secretary at the Educational Testing Service in 2000-01; Howard University's first Provost and Chief Academic Officer and tenured Professor in the School of Education between 1996 and 2000; and at Xavier University of Louisiana, between 1982 and 1996, he served successively as Chairman of the Education Department, Dean of Arts and Sciences, and Vice President for Academic Affairs. Between 1977 and 1982, he was a federal government administrator and researcher at the U.S. Department of Education's National Institute of Education, where he was also a staff member of the National Commission on Excellence in Education, which produced the landmark report, A Nation at Risk.
A native of New Orleans, he received his undergraduate degree magna cum laude from Howard University and his Ph.D. in Educational Psychology from the University of Minnesota.
Last updated July 2018
 

President's Convocation Remarks

President's Convocation Remarks
by Detroit Mercy President Antoine M. Garibaldi, Ph.D.
Aug. 16, 2017

Good morning, Detroit Mercy colleagues, and welcome to the beginning of the 2017-2018 academic year. I know that many of you really never left the McNichols, Corktown and Riverfront campuses because you have been working since our commencements on May 12 and 13. Those May commencements seem like yesterday, but over the last three months many staff and faculty have been assisting new, current and prospective students with their class schedules, financial aid, and student accounts and teaching summer school classes. Many colleagues have been involved in another successful summer of first-year and transfer student orientation; and this year there was 100% participation!  Our facilities and maintenance staff have kept the three campuses looking beautiful and have made numerous renovations to buildings and classrooms, some of which you saw on the slide show during breakfast and can view again during lunch. As you can tell, a great deal of work has occurred around the University since the middle of May. But I hope you all had a chance to get some rest and relaxation and especially some enjoyable time with your families.

As we begin this 140th year of the founding of University of Detroit and the 76th year of the founding of Mercy College of Detroit, I have organized my remarks this morning differently than the past six years. More specifically, it includes a mixture of positive news on several items but also a very serious financial reality that must be addressed immediately to assure the sustainability of the university.  Many of you heard about some of the fiscal challenges at the July 12 Fiscal Briefing; but I will elaborate on that and tell you some of the specific steps that we must take to continue to receive financial support from our largest lending institutions.

I will begin my three-part remarks by first telling you about the positive trends on our first-year and transfer student enrollment and also the progress on and the planned October public announcement of The Campaign for University of Detroit Mercy. Secondly, and most importantly, I will describe our serious short- and long-term financial issues and announce the new strategic and programmatic effort that we will use to address these fiscal challenges:  University of Detroit Mercy 2020: Envisioning a Boundless Future. And finally, I will tell you about some of the forthcoming activities of The Live6 Alliance, the economic development organization that the University was the lead established two years ago, and its anticipated temporary and permanent offices on Livernois Avenue and McNichols Road.   

Fall 2017 Enrollment Overview – As of August 14, 2017, 569 students have confirmed for Fall. This number includes 556 freshmen and 14 Aquinas transfers.  Last year 542 were confirmed on this date (including 59 Aquinas students).  The confirmations this year are a 5% increase.  Confirmations of graduates from Catholic schools total 104, up from 85 last year; and 86 of the confirmed students are from the Archdiocese of Detroit high schools compared with 71 last year, an increase of 21%. Fifty four percent (54%) of the students from the Archdiocesan high schools qualified for the $5,000 grant, which means that they completed elementary school and high school at a Catholic institution. Last year the percentage was 52%.

Here are a few more statistics about our incoming freshman class.

As I mentioned earlier, 100% of the first-year students have either attended or are scheduled to attend our Student Orientation, Advising and Registration program (SOAR).

The new first-year students have an ACT composite score average of 25 (24 last year) and a high school grade point average of 3.6 (3.49 last year). Twenty-five percent are in the top 10% of their high school graduating class compared with 21% last year, and there are 17 Valedictorians and Salutatorians compared with 11 last year.   Twenty-eight (28) confirmed first-time students have been accepted into the University Honors Program compared with nine (9) in 2015, a 68% increase.

One-hundred and thirty-one (131) freshmen are the first in their family to attend college (129 last year), and another 80 students (90 last year) will be the first in their family to receive a bachelor's degree.  Of the 557 confirmed freshman students, 197 or 35% are Pell-eligible (35% last year).

While 87% percent of our incoming students are Michigan residents, the remainder will be coming from the following 14 states: Arizona, California, Colorado, Florida, Maryland, Massachusetts, Minnesota, New Jersey, New York, Ohio, Oregon, Pennsylvania, Texas and Virginia.  Fourteen percent of our incoming students are international students from 12 countries: Canada, Croatia, India, Kenya, Lithuania, Netherlands, Nigeria, Pakistan, Qatar, Saudi Arabia, South Korea and Spain.

As of Monday, August 14, 179 new transfer students were registered for the Fall compared with 194 in Fall 2016; and 243 new graduate students registered compared with 198 last year.

There are 20 confirmed students for the third cohort of the NIH REBUILD Detroit Program, 15 freshmen and 5 transfer students. The students began this summer with a summer bridge experience.

With respect to registration for Fall 2017, as of August 14, 2,507 undergraduate students are registered compared with 2,387 in Fall 2016, a 5% increase; and 881 graduate students are registered compared with 873 in 2016, which is almost a 1% increase. The professional school enrollment is at 1,173, compared with 1,138 last year, which is a 3% increase. 

The overall preliminary registration total as of August 14 is 4,561 compared with 4,398 at this same time last year, which is a 3.7 increase. With Term I beginning in two weeks, there is still time for us to increase the enrollment of new students and returning students, especially in those areas where we are observing a decline from last year.  Therefore, I encourage you to refer students to the Admissions, Financial Aid or College/School offices if they are having any difficulty registering.

Our housing registration numbers are 3% higher than last year by 24 students: 787 vs. 763.  About 50% of McNichols freshmen will be residing on campus compared with 60% last year.

Detroit Mercy's Assistance to Marygrove College Students – As many of you know, last week Marygrove College announced that effective at the end of the Fall 2017 semester, it will discontinue its undergraduate programs and continue to offer graduate and professional development programs. In an effort to assist the Marygrove students affected by this decision and who wish to transfer to Detroit Mercy, the Transfer Team in the Registrar's Office recently published a transfer guide for Marygrove students, which is available online. Additionally, staff in Admissions and Financial Aid are available to meet with Marygrove students by appointment or walk-in. Staff are also evaluating transcripts and eligibility for admission.

The goal of this individual attention is to help students enroll quickly for the fall semester. Future plans may include holding informational sessions and extended office hours, based on need, to accommodate day and evening appointments.

University Advancement and Comprehensive Campaign Activities Update -- We continue to make excellent progress toward our $100 million goal for The Campaign for University of Detroit Mercy. And because of that, we will officially open the public phase of the campaign on October 26 with a special dinner to thank many of our alumni and friends who have made significant gifts. The dinner will include a panel of two major philanthropic and civic leaders who have close ties to the University and are advancing major initiatives of the city of Detroit's revival. The panel will include Rip Rapson, President and CEO of Kresge Foundation, and alumnus Matt Cullen, Principal of Rock Ventures, LLC and CEO of JACK Entertainment, LLC. The panel will be moderated by alumnus, Ron Fournier, editor of Crain's Detroit Business. It should be an exciting evening with many of our alumni and friends who have helped us raise more than $75 million thus far in gifts pledges and charitable estate plan expectancies. We will tell you more about it and we will be able to announce officially the guest panelists. It should be an exciting evening as we begin the final stretch of the campaign. 

As a reminder, the campaign has four primary areas of support: Student Financial Aid; Academic Programs and Faculty; Facilities Renovations; and Unrestricted and General Support. 

Additional University Advancement Activities – A Marketing Strategic Plan has been developed and is being implemented by Gary Erwin, the Associate Vice President for the renamed Department of Marketing and Communications.  There has been an increase of nearly 50% in social media engagement on all platforms and all media hits are being tracked. The University has averaged more than 1,000 hits statewide and nationally per month.

Alumni Relations has been moving forward with increasing engagement and event activities across the country and finalizing plans for the second Fall Homecoming Celebration that will take place September 29 and 30. More details will be provided in Campus Connection, but you can also visit the Homecoming website to learn more about this fun-filled weekend.

Addressing the University's Financial Stability and Sustainability – In our current five-year strategic plan that ends this year, our fourth goal focuses on effective management and financial health. To address this important matter, the President's Council, with input from the Board of Trustees, has developed a comprehensive two-year program: Detroit Mercy 2020: Envisioning a Boundless Future.

The primary goal of the Plan is to strengthen the University for its long-term viability. This progressive program coincides with the conclusion of our five-year strategic plan and will overlap the development of the new five-year plan that will begin in 2018. As a 140 year-old private Catholic university, we are keenly aware of higher education's current and major challenges, such as a reduction in the traditional student-aged population, parental and student concerns about the cost of attendance, and uncertainty about the value and investment of a college education. Detroit Mercy is developing this progressive program to attract and enroll more students. Simultaneously, the University will realign its priorities and cost structure so that it will be able to invest in new academic programs and student services. With a sharp and long-term lens, this initiative will require careful and thoughtful consideration of every possible structural change necessary to graduate our exceptionally prepared students for careers and employment; strengthen Detroit Mercy's financial results and fiscal indicators; and increase available resources to continue and sustain the University's Mission and vibrant future. I will need all of your help to succeed in this effort.

Some of the specific objectives of this effort include: the generation of a broader funding base from revenues, foundations, grants and alumni that will be used to invest in academic programs, student services and facilities; an increase of the student-to-faculty ratio to 13 to 1; and a review of all academic and co-curricular programs to determine both their utility for students and an assessment of whether they are achieving certain fiscal goals.  

Let me mention just a few of a much larger list of specific initiatives that we expect to generate a sizable expense reduction:

Voluntary Early Separation Incentive Program ("VESIP") – This program was announced on July 14 and represents a significant component of this two-year plan. If the VESIP achieves its goal, a smaller employee ratio commensurate with the University's enrollment will assist in increasing the student-to-faculty ratio while also reducing personnel costs.

Tuition Reset and Financial Aid Analysis – A national firm with expertise in enrollment services has been selected to examine Detroit Mercy's undergraduate, graduate and professional program tuition prices. Through the collection of survey data from parents and students and the analysis of other university and available data, this study will provide valuable information on our market position for tuition in comparison to competitor institutions, as well as our financial aid discount. If the results indicate that the University is a candidate for a price reset, additional operational revenue could be generated from a higher net tuition, more students enrolling and a lower financial aid discount rate for future students.

Academic and Athletic Reviews and Potential New Majors – Under the leadership of Provost Zarkowski, academic departments and majors are being reviewed with respect to the number of students enrolled in a particular major, number of faculty, degrees and certificates granted, cost study information, number of sections taught and contribution to the core. Several departments are currently under review. Certificates and minors are being reviewed as well. Similarly, the director of Athletics is reviewing all 19 Division I athletic programs and assessing each sport's value to the academic and student-athlete experience of more than 300 students. 

Hiring Freeze – The University has been in a hiring freeze since late April. As of July, positions determined to be critical are reviewed by the President's Council on a weekly basis. Positions filled as exceptions to the freeze will be reported to the Board at the October Board meeting.  

Facility Assessments – All campus facilities and locations will be carefully reviewed during this process to determine if they are operating at optimal levels of effectiveness and efficiency. The previous initiatives are only some of the programmatic efforts that are being taken to reduce the budget gap this fiscal year. Additional cost-saving and efficiency strategies are also under consideration, including: residence hall utilization, summer term work schedules, and other efforts.

This is by no means an all-inclusive list of the actions that we will have to take to generate the sizable amount of annual expense reductions. But we will be meeting with the Board in September and have a more precise list of actions for them. Difficult decisions will have to be made over the next two years, but the University will be a stronger institution with a sustainable future after we go through this process. Our success and productivity will be achieved through our collaborative work, openness to change, and remaining true to the Mission of our Mercy and Jesuit founders and sponsors.

Strategic Plan: 2012-2017 Fifth-Year Report – As we have done over the previous four years, the Detroit Mercy Strategic Plan: 2012-2017 Fifth-Year Report will be distributed electronically in September. As mentioned earlier, significant progress has been made on each of the goals; but more intensive work is needed to increase our enrollment, retention and graduation of students. The Strategic Planning Team has begun the process of developing the next five-year plan.

Noteworthy Recent Rankings and Designations – For the 16th consecutive year, Detroit Mercy ranked in the top tier of Midwest regional universities in the 2017 edition of the U.S. News & World Report's "America's Best Colleges."  We are ranked #24. The 2018 rankings will be coming in September. Additionally, Detroit Mercy was also ranked #24 on the list of "A+ Schools for B Students" among Midwest Regional Universities. These national rankings reaffirm Detroit Mercy's quality academic programs, outstanding students and dedicated faculty and staff.

The Live6 Alliance's New Website and Activities – The Live6 Alliance continues to take the lead on several important projects to further enhance and strengthen our neighborhoods through a variety of neighborhood and networking events such as: the Speakeasy monthly dialogues, the Market on the Ave. - Farmers and Artisan Market, and the Build a Better Block event. As the work and activities of Live6 Alliance increase, you will find a variety of information on the organization's goals and upcoming events on its new website. The website was launched in May and additional staff was added. Live6's headquarters will be located temporarily for a few months on Livernois (across from the School of Architecture) and will open by the end of this month. The official headquarters located on McNichols Road (next to Detroit Sip) will be completed by January.  

Celebrate Spirit! – On Thursday, September 14, in the Student Fitness Center, the Detroit Mercy community will come together at Celebrate Spirit! to officially welcome the new school year for Detroit Mercy faculty, staff and students. The theme is "Driven to Serve" and will feature a video presentation produced by the School of Dentistry, which is celebrating 85 years! Celebrate Spirit! is co-sponsored by University Ministry and the School of Dentistry and the picnic will again be sponsored by Fiat Chrysler Automotive.

We have much to be proud of, but we have much more work to do this year and over the next five years. Increasing the number of students at the undergraduate, graduate and professional levels is critical; engaging more of our 80,000 alumni and encouraging them to be more generous to the University is imperative; and having you, our key constituents, promoting the University and all of the noteworthy accomplishments is very valuable.

Thank you for your continued cooperation and for all you do for Detroit Mercy!

 

McNichols Campus Commencement Speech

University of Detroit Mercy
McNichols Campus Commencement Speech
May 12, 2018
Antoine M. Garibaldi, Ph.D.

Thank you, Dr. McKinnon. University of Detroit Mercy Board of Trustees Board Chair Michael McNamara; Trustees Sr. Rosita Schiller and William Young; today's speaker, Mrs. Nancy Greening Kennedy; Faculty, Staff, and Students of the University; Parents, Spouses, Relatives and Friends of the 2018 graduates; and, most especially, the 2018 Graduating Class of University of Detroit Mercy. We are happy to have you here for our 2018 McNichols Commencement Ceremony.

We are here today to celebrate the accomplishments of our graduates; but I want to begin today's ceremony by asking you to join me in wishing all of the mothers in the audience an early Happy Mother's Day. Your mother and father and the other special people in your lives who are present today – your grandparents, spouses, brothers and sisters, aunts, uncles and other relatives, best friends, neighbors and many others – have been your biggest supporters and know how hard you have worked to make this dream a reality. You have devoted many long hours to studying, while also holding part-time and full-time jobs, and, in many instances, managing family responsibilities also. Your families and friends are happy as most of you begin and others advance in your varied professions. So make sure to thank them today and over the next few days for their inspiration, encouragement, and support. In case you have not realized it, commencements are often more for your family than for you.

Your McNichols Campus class of undergraduates and graduates totals 1,177!  And like many previous classes of bachelor's, master's and doctoral graduates, you are similar in some characteristics and different in others, particularly with regard to your ages, gender and hometowns.

For example, seventy-four percent, or 515 of the 700, baccalaureate degree candidates are 25 years old or younger – with the youngest being 19 and the most seasoned in the early 70's. Almost 50 percent (49%), or 218, of the 447 master's and specialist graduates are under the age of 30 and the oldest candidate in the early 60's. And our 17 doctoral candidates range in age from 28 years old to the 70's.

And women outnumber men in our undergraduate, graduate and doctoral graduating classes -- 59% women and 40% men! While the magnitude of the gender gap has been growing nationally in higher education over the last two decades, there are ways to increase the number of men attending and completing undergraduate, graduate and professional degrees that will bring their numbers closer to the outstanding numbers that women have achieved.

With regard to hometowns, 81%, or 959, of our graduates are from Michigan; six percent (73) come from 20 other states; and the remainder (120) come from 17 countries, including Belize, Canada, China, Congo, Ghana, Indonesia, Italy, Libya, Mexico, and Netherlands.

We know that those ages, gender and hometown similarities and differences provided you with a rich educational experience that you will treasure for the rest of your lives and use well in your professions, careers and the communities where you will live and serve.

As you come closer to that special moment of graduation, I ask that you give serious reflection and thought to this simple but serious question:

"What is my calling?"


"What is my calling?"

 Even though you have chosen many of our 100 academic majors for a degree that will lead you to a lifelong career, "your calling" in each of those professions is not the same as the response you would give to a friend or stranger who asks "what do you do?" Your "calling" is not "your job" or "your work." Rather, your calling is closely aligned to the vocation you are about to begin and that you have chosen. The root of the word "vocation" comes from two Latin words – the noun "vocatio," which means "a calling" or "a summons" and the Latin verb "vocare," which means "to call." Vocation is also defined as "an occupation to which a person is specially drawn or for which he or she is suited, trained or qualified." As a Catholic university that is Jesuit- and Mercy-sponsored, we know that the word "vocation" had its origins in Christianity and it is commonly used to refer to a person who is interested in devoting himself or herself to religious life. But "vocation" is used today in many non-religious contexts and certainly applies to almost all professions.

So, as you contemplate "your calling," think beyond the simple reply of "I am an accountant, architect, biologist, chemist, community development specialist, computer engineer, financial analyst, historian, journalist, nurse or nurse anesthetist, philosopher, physician assistant, psychologist, social worker, teacher, writer, nurse anesthetist, political scientist…" and many other occupations that you can use to complete the sentence to describe who you are professionally. But that answer is not sufficient and why you should think more deeply about the short-term and long-term contributions you can make to your profession, to your community and to the broader society. Ask yourself instead the more difficult question: "how do I want to use my degree and advance myself personally and professionally over the next five years, 10 years or 20 years?"

To fulfill your calling, you will need to fully use your degrees. For example, you can choose to teach, conduct research, discover cures for diseases, invent innovative products and instruments, design facilities and autonomous vehicles and much more. You can also mentor others who are interested in your profession and become involved in service activities similar to the way that you have volunteered locally, nationally and in other countries during your years as a student. Remember the people and non-profit organizations you assisted and continue that level of community service during your career. Transform the gift of education that you have received here by sharing it freely with others who can benefit from it. Your calling will come into sharper focus as you realize that whatever you select, it will be your ultimate purpose in life and the goals you want to achieve after a successful career. Thus, when you reach the end of your profession, you will follow proudly in the footsteps of tens of thousands of University of Detroit Mercy alumni who have preceded you over the last 141 years.

And as you ponder "your calling," use our commencement speaker and distinguished alumna, Mrs. Nancy Greening Kennedy, as a role model. Her exceptional career as an entrepreneur, philanthropist, and active civic, community, religious and university volunteer is a useful marker for you to use as a baseline for your service. If you can be half as busy as Mrs. Kennedy is now when you are at the peak of your career, the university will be very thankful for your dedicated service.

Finally, stay close to your Alma Mater and your School or College as you bring distinction to the University and your profession during your outstanding career.

Congratulations and much success, Graduates, and may God's blessings be with you and your families always.