Office of the President
About Antoine M. Garibaldi, Ph.D.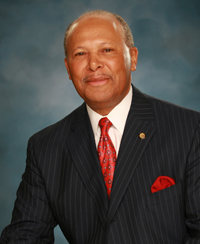 Dr. Antoine Garibaldi is the 25th President of University of Detroit Mercy, a Catholic, Master's Comprehensive University sponsored by the Religious Sisters of Mercy and the Society of Jesus (Jesuits). Founded in 1877 by the Jesuits, University of Detroit consolidated with Mercy College of Detroit in 1990. University of Detroit Mercy is the largest Catholic University in Michigan and has close to 5,000 students in 116 undergraduate and graduate academic programs, including professional programs in Architecture, Dentistry and Law. Dr. Garibaldi is the first lay president of the University and a tenured Professor of Education.
Since June 2011, he has led the development and implementation of the University of Detroit Mercy Strategic Plan: 2012-2017, which includes major goals focused on Detroit Mercy's academic and institutional excellence, enrollment, fundraising and community engagement. For the 16th consecutive year, Detroit Mercy was ranked in the top tier of universities in the Midwest Region in the 2017 edition of U.S. News & World Report's "Best Colleges." In addition to being the highest ranking Midwest Regional school in Michigan in the magazine's annual list, Detroit Mercy was also named one of the "Best Values" in the region and continues to be an "A+ School for B Students." A major comprehensive campaign is underway and several significant grants have been received over the last five years, including a $1.5 million grant from the Ford Foundation; a $750,000 three-year grant from the W.K. Kellogg Foundation; a five-year $21.2 million BUILD grant from the National Institutes of Health (NIH) in collaboration with three other Detroit colleges and universities; and a first-time ever, five-year $1.1 million Student Support Services Program grant from the United States Department of Education. In 2015, Detroit Mercy initiated the development of the Live6 Alliance, a community revitalization organization, which Detroit Mercy is a key member along with The Kresge Foundation and the Detroit Economic Growth Corporation that will focus on strengthening the Livernois Avenue and McNichols Road (6 Mile Road) commercial corridors in Northwest Detroit.
Nationally recognized for his more than three decades of teaching, scholarly work and administrative experience in education and the federal government, Dr. Garibaldi is a Fellow of both the American Psychological Association and the American Educational Research Association and the author of 11 books and more than 85 research articles and chapters. His article, "The Expanding Gender and Racial Gap in American Higher Education," was published in the Summer 2014 edition of Howard University's The Journal of Negro Education. In 2015, he was selected among Crain's Detroit Business "100 Most Connected People in Detroit."
A longtime leader in national higher education organizations, he currently serves on the boards of the: Association of Governing Boards (AGB) Council of Presidents; Association of Jesuit Colleges and Universities (AJCU) Executive Committee; Georgetown University (DC); Horizon League Athletic Conference, which he chaired from 2013 to 2015; University of Saint Thomas (MN); QEM/Math, Science, Engineering (MSE) Network; and the Sister Thea Bowman Catholic Educational Foundation. Locally, he is a member of the boards of Brother Rice High School; Cardinal Club; Detroit Institute of Arts (DIA); Detroit Police Chief's Community Advisory Board; Live6 Alliance; New Detroit, Inc.; the United Way for Southeastern Michigan Campaign Cabinet; and the Detroit Metro Convention & Visitors Bureau. He is a member of Alpha Phi Alpha Fraternity, Inc. and Sigma Pi Phi Fraternity. He currently serves on the Grand Public Policy Committee of Sigma Pi Phi.
Dr. Garibaldi has previously served on numerous boards and committees including: National Association of Independent Colleges and Universities (NAICU), where he was Secretary of the Board; Co-Chair for the Children/Youth Development, Education and Recreation Subcommittee of the Detroit Mayor-elect's Transition Team in 2013; American Council on Education, where he was Secretary of the Board; National Association of College and University Business Officers; U.S. Conference of Catholic Bishops National Review Board; Association of Independent Colleges and Universities of Pennsylvania; Council of Independent Colleges (CIC), which he chaired from 2006 to 2008; NCAA Division II Presidents Council (2005-09) and Chair of the NCAA's Executive Committee Subcommittee on Gender and Diversity. Dr. Garibaldi was also Chairman of the Board of Directors of the American Association for Higher Education (AAHE) in 2001-02 and served on the Board from 1995-2003. Additionally, he is a former member of the American Council on Education's Commission on Leadership and Institutional Effectiveness, Wheeling Jesuit University's (WV) Board of Directors, and Seton Hall (N.J.) University's Board of Directors and Board of Regents. He served as Chairman of the Grand Social Action Committee of Sigma Pi Phi Fraternity in 2006-08, Vice Chairman in 2008-10, and was a member of the fraternity's Education Commission from 2010 to 2012 and the Commission for Young African American Males in 2012 to 2014.
Prior to joining University of Detroit Mercy, Dr. Garibaldi was the sixth President of Gannon University for nine and a half years from 2001 to 2010. During his tenure, enrollment increased by 24 percent – more than 830 students – to 4,238 students; the endowment more than doubled; more than $40 million was raised for the largest comprehensive campaign in Gannon's history, which included more than $31.5 million in private gifts, two first-ever multi-million dollar federal grants from the U.S. Department of Education, major grants from the National Science Foundation and other foundations, and more than $5 million of federal and state grants to establish the Erie Technology Incubator. Additionally, during his decade at Gannon, more than thirty buildings were constructed, acquired and renovated; and the University was ranked for seven consecutive years in the top tier of Northern Best Regional Universities by U.S. News & World Report's "America's Best Colleges" in its 2005-2011 editions. Gannon was also ranked in the Great Schools, Great Prices category for five years and as a Top Up-and-Coming School in 2009.
He has received numerous honors, including four honorary doctorates from Our Lady of Holy Cross College (LA), Seton Hall University, Gannon University and University of Saint Thomas (MN); the Outstanding Achievement Award from the University of Minnesota; the Howard University Alumni Award for Distinguished Postgraduate Achievement in the field of education; the Papal honor of Knight of St. Gregory the Great; the National Service Award from the International Salute to Dr. Martin Luther King, Jr.; "Person of the Year Award" from the University of Notre Dame Club of Erie; and the Michigan Chronicle's 2013 Men of Excellence Award.
Some of his previous professional positions include: Senior Fellow in the Office of the Vice President for Collaborations and Corporate Secretary at the Educational Testing Service in 2000-01; Howard University's first Provost and Chief Academic Officer and tenured Professor in the School of Education between 1996 and 2000; and at Xavier University of Louisiana, between 1982 and 1996, he served successively as Chairman of the Education Department, Dean of Arts and Sciences, and Vice President for Academic Affairs. Between 1977 and 1982, he was a federal government administrator and researcher at the U.S. Department of Education's National Institute of Education, where he was also a staff member of the National Commission on Excellence in Education, which produced the landmark report, A Nation at Risk.
A native of New Orleans, he received his undergraduate degree magna cum laude from Howard University and his Ph.D. in Educational Psychology from the University of Minnesota.
 

President's Convocation Remarks

President's Convocation Remarks
by Detroit Mercy President Antoine M. Garibaldi, Ph.D.
Tuesday, August 16, 2016

Good morning, Detroit Mercy faculty and staff colleagues, and welcome to the beginning of the 2016-2017 academic year. I know that most of you have been busy working on the McNichols, Corktown and Riverfront campuses over the summer, but I hope you had a chance to get some rest and relaxation.

As I have done in the past, I have several important items and information that I want to share so that you are knowledgeable about these matters when asked by our students, alumni, friends and citizens of the region. Much will be happening on and around our three campuses over the next 60 to 90 days and there will be more than eight major University activities in September and October, including: UDM Alumni Night at Comerica Park on September 13; Celebrate Spirit on September 15; Decennial Accreditation visit of the Higher Learning Commission; the unveiling of our new logo, brand and tag line also on September 15; our first major Fall Homecoming on Friday, September 30 and Saturday, October 1; the 100th Anniversary of the College of Business Administration on October 28; the potential development of new apartments for upperclassmen south of the campus; a couple of other yet-to-be scheduled announcements related to the Live6 Alliance and the Fitzgerald/College Core neighborhoods; and more. Those activities and initiatives will have a positive and significant impact on our efforts to recruit and retain more students, as well as bring back more alumni to each of our three campuses. You have heard a little about some of these forthcoming initiatives over the past year at our campus-wide quarterly Fiscal Briefings, via memoranda throughout the year, and more recently in the local media; but I will provide more current information this morning. 

Before I share those details and also some positive preliminary enrollment numbers on our first-year class, I want to reflect back to my first convocation five years ago in August 2011.  At that convocation, I talked about how important it was for all of us to begin thinking about advancing Detroit Mercy from "good to great" and how that theme should drive the five-year strategic plan that we were about to develop. I selected the message of "advancing from good to great" as a result of twice hearing organizational theorist Jim Collins, the author of Good to Great, How the Mighty Fall, and Great by Choice that summer at the Mackinac Policy Conference and as the keynote speaker at the annual meeting of the National Association of College and University Business Officers (NACUBO). After Collins's keynote speech to the 2,000-plus participants at the NACUBO meeting, he dialogued with the NACUBO board members, which included me, for an hour and a half as we talked about some of the most pressing challenges of higher education:  the rising costs of postsecondary education; declining public financial support of higher education; competitiveness among traditional colleges and universities; for-profit and online institutions; the less than positive public perception of higher education; and more. Collins also pressed us to answer the delicate question of which colleges and universities would survive in the next 10 years.

Five years later, some colleges and universities have not survived and the challenging issues in 2011 still exist in 2016. My message in 2011 was that we must control our own destiny, strive to be "great" rather than "good," and provide a high quality education at an affordable price. To be successful, our willingness to do things differently would determine if we continued to be competitive with our other local and regional institutions.

Using the theme of "Advancing Detroit Mercy from Good to Great" is a propos to who we are as an institution because having excellent faculty and staff like you, very talented students, outstanding alumni, a national and regional reputation, a strong Jesuit and Mercy Mission are good, but we must aspire to be great. Advancing Detroit Mercy as a "great" institution has been my mantra over the last five years because we must separate ourselves in a state of 116 colleges and universities. We cannot let up, but instead our next five-year strategic goals must be even bolder; and we will be developing those goals during the 2016-17 academic school year. 

And throughout this process, we have to remember Jim Collins's admonition in his book, Good to Great:  "Good is the enemy of great."

With the previous comments as background, let me talk about some of the current and impending initiatives that are raising our profile in Michigan and regional higher education.

I lead off with a potential development for Student Housing south of the campus on Puritan, and directly behind Shiple Hall. In 2011 an alumnus approached us with a proposal to build apartment-style student housing that would be very appealing to our students. We were particularly interested in apartments for upperclassmen, graduate and professional students that would be designed suite-style so that small groups of students could live together. The alumnus and the developer are financing the entire project and the 350-bed apartments will be enclosed in the footprint of the campus behind our current residence halls. The developer will operate the apartments and the University's Department of Public Safety staff will be responsible for security. Because an increasing number of students want to live on campus, we are very confident that this will be a successful endeavor. Over the last year, we have been working very closely with the developer and the city's Planning and Development Department to obtain City Council rezoning approval, which was received this summer. At the September City Council meeting, the City of Detroit Director of Housing and Development will request the Council's final approval for the entire development plan. After the final approval and more planning, we will have a better sense of the project timeline.

Another major neighborhood effort that you have probably read about over the last two months in the local media is the Fitzgerald Neighborhood Revitalization Project. Mayor Mike Duggan spoke about this neighborhood initiative at this year's Mackinac Policy Conference and highlighted our collaboration. The Fitzgerald or College Core neighborhood, just to the west and between Marygrove College and Detroit Mercy, is a demonstration project of the Mayor whereby three city residential areas will be developed to become "20-minute neighborhoods." The intent of this initiative is to rebuild select neighborhoods across the city and that would enable residents to walk or bike to everything they need within 20 minutes. The Fitzgerald neighborhood, which is located across from the McNichols Campus, has been selected as one of three neighborhoods to participate in this inaugural plan. The plan calls for improvements such as:

The renovation of 70 homes with federal affordable housing funds to give families a chance to live in these neighborhoods;
Construction of a greenway through some of the vacant lots to connect the neighborhood and make it easier for residents to ride or walk through;
Converting vacant lots into wildflower meadows,  orchards or gardens to add beauty to the neighborhood;
The renovation of vacant apartment buildings to add density and potential affordable student housing;
Improvement of the streetscapes and medians;
The addition of protected bike lanes to increase modes of transportation; and
The addition of retail in the neighborhood and nearby commercial corridors.

The enhancements to the Fitzgerald/College Core neighborhood will be extremely beneficial to the surrounding area, especially as we are making significant upgrades to the McNichols Campus. 

Live6 Alliance – It has been almost a year and the Live6 Alliance continues to take the lead on several important projects to further enhance and strengthen our neighborhoods through a variety of neighborhood and networking events such as: Build a Better Block, Drinks x Design and Dine & Development. Along with the activities of the Live6 Alliance and the opening of new restaurants and businesses such as Social Sushi across from the McNichols Campus next to the Bike Shop and Detroit Sip on McNichols and Livernois, progress is happening. 

Knight Foundation Civic Commons Competition – In November, the University partnered with the City of Detroit and Marygrove College to submit a proposal for a major competition sponsored by the Miami-based Knight Foundation.  The Detroit Civic Commons proposal focused on revitalizing the area between Detroit Mercy and Marygrove College, enhancing commercial corridors that support the neighborhoods and the universities, creating a vibrant Main Street with a sense of urban, civic life. The streets would be transformed to be safer and more inviting to pedestrians and bicycles encouraging walkability and greater activity linked together by a revitalized street and neighborhood greenway that promotes an active, pedestrian-oriented public realm that connects into each campus. We were one of 7 semi-finalist cities in the competition and if we are successful, the partnership could garner as much as $10 million or more for facilities-related projects on and near the campus. The four winning cities will be selected a few days after Labor Day.

House Bill 4588 – Over the last five years, we have taken the lead among the private colleges and universities in the state to regain the authority to allow our Public Safety officers to patrol outside of the boundaries of our campuses. With the support of Representative Kurt Heise, who introduced The Michigan Commission on Law Enforcement Standards (MCOLES) legislation, the bill has passed in the House and is awaiting approval by the Senate Judiciary Committee.  If approved, this bill would allow the University to have a private security force and would grant our licensed officers, which is almost all of our force, and other private institutions the power to make arrests and patrol within and beyond the geographical boundaries of Detroit Mercy and other officers' private institutions and within the confines of the law enforcement standards act. This bill would restore to our officers the powers they had prior to the revision of Public Act 330 in 1968, which authorizes our Public Safety Officers to only act within the campus boundaries. This is important legislation for us to assure our prospective students and the neighborhood residents that the University adds increased safety to city public safety officers.

New Brand, Logo and Tagline Unveiling – On September 15, we will officially announce and unveil our new brand, logo and tagline during this year's Celebrate Spirit! This is the first University brand change since the consolidation 26 years ago, which includes a new logo, tagline, brand guidelines, key messages and new recruitment materials. Later this fall, we will also be unveiling the new University website that will be much more user- and mobile-friendly.

Celebrate Spirit! – As I mentioned, on Thursday, September 15, the Detroit Mercy community will come together at Celebrate Spirit! to officially welcome the new school year for faculty, staff and students. The theme is "Competence, Compassion and Conscious" and this year's speaker is Ms. Crystal Windham '02, Director of Interior Design at General Motors Corporation. The Celebrate Spirit! picnic is sponsored by the College of Business Administration, which is celebrating 100 years! Also, be sure to stop by the picnic to receive a special gift with our new logo.

Higher Learning Commission Accreditation Review – The dates of the 2017 Higher Learning Commission (HLC) of the North Central Association of Colleges and Schools visit is scheduled for September 26 and 27, 2016. During the two days that the peer reviewers will be on campus for this reaffirmation visit, they will be meeting with faculty, staff and students from across the University as well as the administration and Board members in both scheduled and spontaneous meetings. The peer reviewers may also wish to visit classes, meetings, and/or observe additional daily activities to confirm our compliance with the re-affirmation standards. This ten-year reaffirmation review is extremely important and it is essential that all members of the University community are available during the two days they are scheduled to visit. Thank you to Provost Zarkowski and Prof. Calleja, Chair, 2016 Steering Committee, for all of their hard work in preparing for this very important visit.

Noteworthy Recent Rankings and Designations – In addition to the preceding initiatives and activities, the University and specific academic programs have maintained outstanding rankings. For the 15th consecutive year, Detroit Mercy ranked in the top tier of Midwest regional universities in the 2016 edition of the U.S. News & World Report's "America's Best Colleges."  We are ranked #23. The 2017 rankings will be coming in September. Additionally, Detroit Mercy was also named:

#23 on the list of "A+ Schools for B Students" among Midwest Regional Universities;
#21 on the list of "Best Colleges for Veterans" among Regional Midwest Universities;
The Business Management Program in the College of Business Administration has been nationally ranked #10 nation-wide;
MBA Program is ranked #16;
The undergraduate Engineering Program has been nationally ranked #98 nation-wide, up from #104 ranking in 2015; and
The University was designated as a Gold-certified Michigan Veteran-Friendly School by the Michigan Veterans Affairs Agency, which recognize academic institutions of higher learning committed to supporting the needs of student veterans and dependents

These national rankings reaffirm Detroit Mercy's quality academic programs, outstanding students and dedicated faculty and staff.

Enrollment Projections for 2016-2017 – As of August 15, 542 first-year students have confirmed for Fall.  Last year 525 were confirmed on this date.  This is a 3% increase.  Confirmations of graduates from Catholic high schools total 85, down from the 112 last year; and 71 of the confirmed students are from the Detroit Archdiocesan high schools compared with 85 last year, a decrease of 16%.  Of those students from Archdiocesan high schools, 52% received the $5,000 grant signifying that they completed elementary school and high school at a Catholic institution.  Last year the percentage was 43%.

Our Student Orientation, Advising and Registration program (SOAR) participation rate for this summer is 100%. All students have either attended or are scheduled to attend our orientation program.

The new first-year students have an ACT composite score average of 25 (24 last year) and a high school grade point average of 3.6 (3.49 last year). Twenty-five percent are in the top 10% of their high school graduating class compared with 21% last year, and there are 17 Valedictorians and Salutatorians compared with 11 last year.   Twenty-eight confirmed first-time students have been accepted into the University Honors Program compared with nine in 2015, a 68% increase.

One-hundred and twenty-nine (129) freshmen are the first in their family to attend college (105 last year), and another 90 students (79 last year) will be the first in their family to receive a bachelor's degree.  Of the 542 confirmed students, 179 or 35% are Pell-eligible (31% last year).

Our first-year students will be coming from 14 states, California, Florida, Illinois, Indiana, Kentucky, Minnesota, Missouri, New York, Ohio, Texas, Virginia, Washington, Wisconsin, Michigan and 3 countries: France, Germany and Canada.  Four percent of our incoming students are international students and 88% percent of our incoming students are from Michigan.

Deposits from students who attended Accepted Students Day in March are trending similar to last year's pace; 153 or 82% (82% last year) of the students who attended the program have deposited.

As of Monday, August 15, 194 new transfer students were registered for the Fall compared with 194 in Fall 2015; and 198 new graduate students registered compared with 200 last year.

There are 24 confirmed students for the new NIH REBUILD Detroit, twenty-one freshmen and 3 transfer students. The second cohort of this program began this summer with a summer bridge program for the students.

With respect to registration for Fall 2016, as of August 15, 2,387 undergraduate students are registered compared with 2,551 in Fall 2015, a 6.4% decrease; and 873 graduate students are registered compared with 935 in 2015, which is a 6.6% decrease. The professional school enrollment is at 1,138, compared with 1,107 last year, which is a 2.8% increase.

The overall preliminary registration total as of today is 4,398 compared with 4,553 at this same time last year, which is a 3.4% decrease. With Term I beginning in two weeks, there is still time for us to increase the enrollment of new students and returning students, especially in those areas where we are observing a decline from last year.  Therefore, I encourage you to refer students to the Admissions, Financial Aid or College/School offices if they are having any difficulty registering.

Our housing registration numbers are 7% higher than last year by 51 students: 773 vs. 722.  About 60% of McNichols freshmen will be residing on campus.

University Advancement and Comprehensive Campaign Activities Update – The Campaign for University of Detroit Mercy is entering the third year of its leadership gift phase. A public announcement of the campaign goal will be made in the near future. The campaign has four primary areas of support: Student Financial Aid; Academic Programs and Faculty; Facility Renovations; and Unrestricted and General Support.

Strategic Plan: 2012-2017 Fourth-Year Report – As we have done over the previous three years, the UDM Strategic Plan: 2012-2017 Fourth-Year Report will be distributed electronically over the next couple of weeks. As mentioned earlier, significant progress has been made on each of the goals; but more intensive work is needed to increase our enrollment, retention and graduation of students. With only one more year remaining in the current five-year strategic plan, the Strategic Planning Team has begun the process of developing the next five-year plan.

Academic Accomplishments – During the 2015-2016 academic year, we achieved many noteworthy academic accomplishments as well. With the help of the members of the Academic Leadership Team, I will share a few of their most important accomplishments.

School of Architecture

The School of Architecture was recognized recently for academic excellence by startclass.com - ranking # 25 in the country among all accredited schools of architecture, well above most other institutions in our region.

Several architecture students were honored for their achievements recently.  For the fourth year in a row, a Detroit Mercy student won the Best Student Design Award for the year from AIA Michigan; several students were recognized with external scholarship awards totaling over $15,000 this spring; and one current student and two recent graduates were awarded Challenge Detroit Fellowships.

The Detroit Collaborative Design Center continues to make a huge impact on Detroit's resurgence, and the DCDC had an excellent year in terms of grant support.  New grants have been committed in the past year from the Ford Foundation, Surdna, Kellogg, Knight, and Kresge totaling $1.3 million.

College of Business Administration 

Business Programs Nationally Ranked – U.S. News & World Report ranked our undergraduate program 10th, and our MBA program ranked 16th best in the nation for Management, ahead of some prestigious Ivy League and selective institutions.

Financial Markets Lab – The College has opened its new, state-of-the-art Financial Markets Lab with electronic ticker tapes, dual-monitor computers and touch-screen technology, providing up-to-the-minute financial data and professional-grade software for analysis and simulations.

Center for Social Entrepreneurship – The College of Business Administration launched its new Center for Social Entrepreneurship with a series of skills seminars and mentoring for social entrepreneurs in April; the grand opening is scheduled during the College's Centennial Gala in October.

School of Dentistry

Class of 2016 Achieves Outstanding Commission on Dental Competency Assessments (CDCA) Exam Results – The Class of 2016's CDCA exam first-time pass rates of 91% (prosthodontic) and 93% (restorative) are at the highest levels in years and reflect hard work, dedication, and practice-ready graduates.

UDMSOD Partners with Beaumont and Wayne County – UDMSOD is partnering with Beaumont Health, Wayne County, and the Wayne County Health Department to provide a myriad of health care services to Wayne County communities. The 25,000-square-foot building in Wayne will serve as part of the School's community based education program as a local rotation.

Detroit Mercy Dental implements first ever OB-GYN/Oral Health Program – Since 2015, Dr. Melanie Mayberry has led a pilot program made possible by the Detroit Medical Center Foundation. The program supports integrated medical/oral health collaborations with a goal to improve patient knowledge of oral health as it relates to pregnancy. Wayne State University OB-GYN residents and Detroit Mercy dental students were able to practice coordinating care and make referrals.

College of Engineering & Science

The Ford Motor Company Fund has awarded a $200,000 grant to Detroit Mercy and E & S to develop a mobile app that links Ford volunteers to selected non-profits chosen with the help of Ford consultants.  The pilot app will be developed by a team of E & S faculty, students, and alumni with Assoc. Dean Katy Snyder serving as Principal Investigator.  The fully developed app is expected to be released by summer 2017.

E & S Alumnus Bill Kozyra, CEO of TI Automotive, is donating $1 million to the College of Engineering & Science to support the development of the Center for Automotive Systems Engineering Education (CASEE).  With the generous support of our alumni and our industry partners, the Center will be opening this Fall with a dedication Friday, September 30, during UDM's Homecoming weekend. The Center will introduce our engineering students to systems engineering through curriculum, student competitive automotive and robotic design, and faculty-mentored research projects. 

The new iNSPIRE (Innovative Space for Research and Exploration) Laboratory will be dedicated on October 13 as an undergraduate research core facility for faculty-mentored research and use as a teaching laboratory.  The $1,000,000 Laboratory construction project and equipment acquisition was funded by the NIH ReBUILDetroit grant and generous alumni contributions.  It will also serve as a gathering and training location for STEM faculty professional development.

College of Health Professions/McAuley School of Nursing

The new CHP building addition is an exciting project to observe!  The faculty, students, and staff are thrilled to have cutting edge technology and dedicated space for the development of our students (especially those enrolled in our graduate programs).

Our certification outcomes for graduate programs continue to surpass national norms:

Family Nurse Practitioner = 96% (national average = 84%)
Clinical Nurse Leader = 100% (national average = 74%)
Clinical Nurse Specialist = 100% (national average = 72%)
Physician Assistant = 98% (national average = 96%)

The Nurse Anesthesia program received full accreditation for 10 years with no compliance concerns (an exceptional outcome in the discipline).

School of Law

To commemorate the 100th anniversary of the Law Review, one of the oldest in the country, the School of Law hosted two Law Review Symposia: one on the future of the Great Lakes and the other, specifically celebrating the Law Review's Centennial, on legal issues in Detroit's history. Legal experts at both symposia came from University of Detroit Mercy as well as across the country and the world.

The 50th anniversary of our clinical program. We were one of the first law schools in the country to establish a clinical program.  When the Urban Law Clinic began in 1965 it provided legal assistance to those who could not afford to pay a lawyer. The mission of the clinic was not just to represent individuals, but to educate our communities about the law. All of that is still true today through the six clinics, where our students provide more than 12,000 hours/year of legal assistance to those in need: veterans seeking federal benefits, immigrants needing asylum due to persecution in their home countries, children in protective proceedings, misdemeanor defendants in local courts, appellants in criminal cases, and inventors seeking patents.


College of Liberal Arts & Education

The Department of Counseling & Addiction Studies was awarded a grant of $780,000 from the U.S. Substance Abuse and Mental Health Services Administration to provide advanced addiction/assessment training to health care professionals.

Detroit Mercy faculty and local teachers spent four weeks in Brazil studying and developing curriculum materials on "African Contributions and Contemporary Issues." This was the result of a Fulbright Hays grant of $85,000 from the U.S. Department of Education.

Two programs achieved re-accreditation: Clinical Psychology and Counseling and we have been recognized as a Center for Academic Excellence in Cyber Defense Education by the National Security Administration and the U.S. Department of Homeland Security.

Libraries/Instructional Design Studio

The McNichols Campus and School of Dentistry Libraries migrated to a new system that will allow researchers to search for books, journal articles, and online content in one simple search.

The Instructional Design Studio reorganized their space, creating a welcoming environment with expert help on hand, for faculty looking for a quiet space to work on online course content.

The McNichols Campus and School of Dentistry Libraries also completed space reorganization projects this summer, with the former reorganizing personnel space to welcome the new TRiO program, and the latter adding more study furniture for students.

Career Education Center

The Career Education Center is pleased to announce its partnership with Alliance Catholic Credit Union. Alliance Catholic actively supports Catholic education, Catholic charities and Catholic parishes. As part of the agreement with Detroit Mercy, ACCU will be sponsoring a series of events for current and prospective students as well as faculty and staff supporting professional development and financial literacy programming. Alliance Catholic will also be presenting a series of financial literacy seminars, in conjunction with the Career Education Center, to help students be better-prepared to manage their financial futures.

Athletics

Senior Sara Zawacki of the women's soccer team was named Valedictorian for the Class of 2016. In 2015-16, 18 of our 19 sports earned a cumulative team GPA of 3.0 or above. Women's golf earned the highest team semester GPA of 3.651 and three teams earned a semester GPA above 3.5. Twenty-five of our students earned a 4.0 this past semester, 130 students earned a 3.5 or higher term GPA, and 205 of our 290 student-athletes earned 3.0 or higher, placing them on the Athletic Directors Honor Roll.

Facility Updates – There have been many significant renovations to all three campuses over the past year. And many of those renovations have contributed to our ability to attract outstanding students and faculty. Even more, those campus improvements are being used to encourage alumni to come back and visit and provide convenient space for outside guests to host their events.

McNichols Campus

Library Main Floor Study Rooms:  Construction of four new student study rooms on the main level of the library will+ be completed in early fall.  These rooms will accommodate 2-4 students each, and allow for students to collaborate on projects and work together while studying for exams.  Rooms are being prepared for the addition of future technology.

College of Health Professions Expansion:  A 20,000 square foot addition to the College of Health Professions is ongoing.  The addition includes new collaboration spaces, practice exam rooms and labs, and additional storage space.  The second level is a shelled space for future renovation and occupancy.  Projected completion is December 2016.

Event Center Conference Rooms:  Renovation of the Event Center Conference rooms is to begin soon.  This project will consist of the renovation of three rooms.  These rooms will be equipped with a new heating and cooling system, technology, and finishes comparable to the ballroom area.

Student Center Elevator:  The Student Center received a new passenger elevator this past year.  This elevator services all three levels of the building to allow easier access to all levels of this building.

Center for Automotive Systems Engineering Education Lab:  This project consists of the renovation of 4,000 square feet of storage and lab space.  The final product is a new modern lab with collaboration and project spaces, including new heating and cooling, electrical infrastructure, and new and energetic finishes.  The project also included painting the 17,000 square foot high bay and adding a glass egress stairwell.

Architecture Pagnotta Lower Level Renovation:  The Architecture lower level underwent some major renovations to make the space more useable and inviting to students.  This included an update to five studios for second year students, while also creating work and critique areas in the corridor for schoolwide use.  The space for this project was designed by School of Architecture Alumni and former faculty member, Thomas Roberts.

Calihan Student Athlete Academic Center:  Calihan Hall is proud to present the Tom and Arvie McNamara Student Athlete Academic Center and Eli Holman Study Room.  This renovation included adding new heating and cooling, offices, private meeting rooms, and a large study area.

Ford Life Sciences Main Corridor and Classroom Renovation:  The main corridor and two classrooms in Ford Life Sciences received upgrades during the summer of 2016.  Two classrooms were painted, and received new ceiling tile and carpet, while a new ceiling was installed in the corridor along with new lighting.

Engineering Window Replacement:  In July, more of the original 1928 windows were replaced on the second floor of the Engineering Building.  This project included new windows, windowsills, roller shades, and air conditioning units.

Reno Hall Window Replacement:  Reno Hall received all new windows, replacing windows that were original to the building constructed in 1954.  The project included windows, window treatments, and air conditioning units.

iNSPIRE Lab Chemistry 002:  The Chemistry Building's lower level northwest storage room was renovated into the University's new iNSPIRE Laboratory for ReBUILD Detroit scholars.  The project upgraded 2,000 square feet of unused space into a new and vibrant lab for studying chemistry and biology.  The project includes new heating and cooling, electrical upgrades, lighting, as well as hi-tech and industry-related finishes.

Corktown Campus (Dental)

Dental Dispensary:  Renovation was completed to the Dental School's dispensary. The functionality of this space was improved by adding counter space and cabinetry.

Dental Radiology:  Three thousand square feet of space was renovated at the Dental School to improve student used X-ray reading rooms and provide four additional dental chairs for radiology patients.

18th Street Gate:  Renovation of the 18th Street Entry included an upgraded card access system, security cameras, and dual gates to improve traffic flow.

School of Dentistry East Parking Lot:  This paving project included the addition of 80 new parking spaces, relocation of existing trees, and an improved storm drainage system.

We have much to be proud of, but we have much more work to do this year and over the next five years. Increasing the number of students at the undergraduate, graduate and professional levels is critical; engaging more of our 80,000 alumni and encouraging them to be more generous to the University is imperative; and having you, our key constituents, promoting the University and all of the noteworthy accomplishments is very valuable. After all, if you and I do not talk about our aspiration to be "great," how will we achieve that goal? Good is not good enough; we expect to be and will be great!!

Thank you for your continued cooperation and for all you do for Detroit Mercy!

 

McNichols Campus Commencement Speech

University of Detroit Mercy
McNichols Campus Commencement Speech
May 14, 2016
Antoine M. Garibaldi, Ph.D.

Thank you, Sr. Mary Kelly. University of Detroit Mercy Board of Trustees; Vice Chair Sr. Rosita Schiller; Trustees Brian Cloyd, Sr. Linda Werthman and Bill Young; today's speaker, former Dean of University Libraries/Instructional Technology, Margaret Auer; Faculty, Staff, and Students of the University; Parents, Spouses, Relatives and Friends of the 2016 graduates; and, most especially, the 2016 Graduating Class of University of Detroit Mercy. We are happy to have you here for our 2016 Commencement ceremony!

And congratulations to our more than 1,100 (1,108) graduates who are receiving their graduate and undergraduate degrees this afternoon. You will soon join more than 87,000 distinguished alumni who live in all 50 states and 87 countries; and we are confident that you will bring even more distinction to the University because of your future success in each of your respective professions.

Let me begin my remarks by sharing a few interesting facts about your class with your family and friends who are here this afternoon.

First, seventy percent (465) of the six hundred and sixty (660) baccalaureate degree candidates are 25 years old or younger, and the oldest is in the early 60's; sixty percent (258) of the 432 master's and specialist graduates are 29 years old and younger, and the oldest is in the youthful 70's; and our 16 doctoral candidates range in age from 27 years old to the late 60's. Age truly is just a number when it comes to lifelong learning!

Secondly, more than a thousand (1,009) of you (91%), are from Michigan; four percent (49) of you come from 20 other states; and almost five percent (49) of you are from 6 countries, including Canada, Belarus, Brazil, Georgia, China and India.

And third, women are dominant in these undergraduate and graduate classes by almost 2 to 1 -- 64% women and 36% men! Congratulations, Ladies. Guys, we have some work to do in higher education!

Those diverse similarities and differences with respect to age, your hometowns, and your gender provided you with a rich experience that you will be able to use in your careers and the communities where you will live and serve. And I hope that the friendships and professional relationships you have developed as students will keep you connected for many decades.

As you graduate today, please remember and reflect on these two simple but powerful phrases:

"Be Thankful" and "Be Generous"

"Be Thankful." Be thankful for everything your relatives and friends have done for you. And remember that your dream today might not have been possible if it had not been for your family members' sacrifices. It's understandable that you would think that today is all about you because you are the graduate. But, in reality, today's ceremony is even more special for your parents, your spouses, your siblings, and other proud relatives who are enjoying this day even more than you. Thank them all -- your sisters and brothers, grandparents, aunts and uncles, and many friends -- for their support and constant encouragement while you were a student. And thank your University of Detroit Mercy professors and staff who have prepared you to think and make good judgments. Make your list of people to thank and personally express your appreciation to them.

Remember also to "be generous." Be generous with your time and voluntary service, just as you have been with your local and national service activities. You have prepared and delivered meals to senior citizens on the weekend with Campus Kitchen; you tutored students after school at Gesu Elementary School; you taught children about proper nutrition at their elementary schools and mentored young students in sports activities. And you provided health screenings for veterans as well as assisted Detroit residents with their income tax preparation. You also collected donations for food drives and bottled water for the citizens of Flint, and participated in Alternative Break Trips here and across the country. Continue to serve in your communities!

Our speaker today is a person who truly knows the value of service. Former Dean of University Libraries and Instructional Technology, Margaret Auer has dedicated more than 50 years of service to this University and most of that time as Dean. We thank her for the generous service she has provided to tens of thousands of students and even more citizens of this metropolitan Detroit community.

As you are expressing your thankfulness and generosity, remember also to give back to your alma mater and her founders, the Jesuits and the Sisters of Mercy. Through their religious orders' vision and commitment to higher education in Detroit 139 years ago and 75 years ago, respectively, professionals like you would not have had the opportunity to lead and serve in your own distinctive ways. Give back generously so others will follow in your footsteps.

Now that you have obtained an excellent academic and spiritual foundation, become an active member of our more than 87,000 alumni and use the values and skills you have learned to make a difference in this nation and the world.

Congratulations and much success, Graduates, and may God's blessings be with you and your families always.