Liturgy and Prayer
Chapels/Spiritual Spaces
St. Ignatius Chapel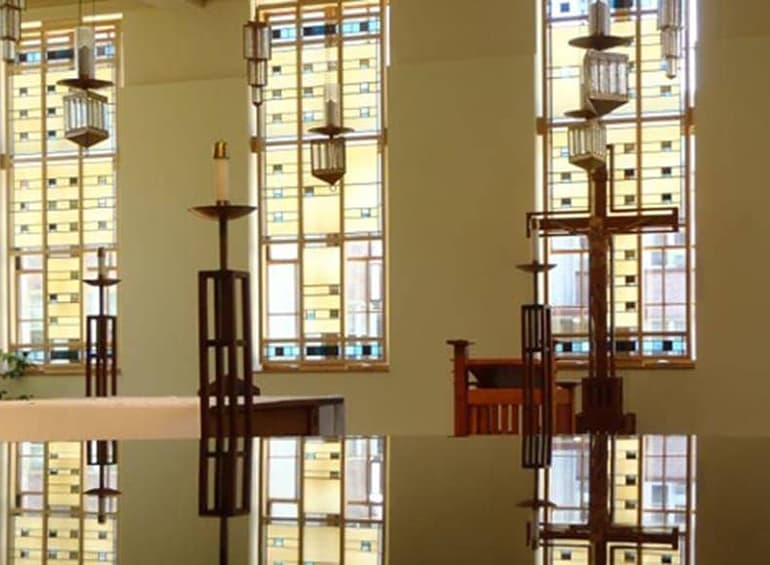 The St. Ignatius Chapel is a wonderful spiritual resource on the University of Detroit Mercy McNichols Campus. Located in the Commerce and Finance building, the combination of contemporary and traditional architectural forms found in the chapel makes it an ideal place for worship, prayer and reflection. Catholic Mass is offered in the chapel. Please see the worship schedule for days and times. People of all faiths are welcome to the chapel and services.
Mercy Place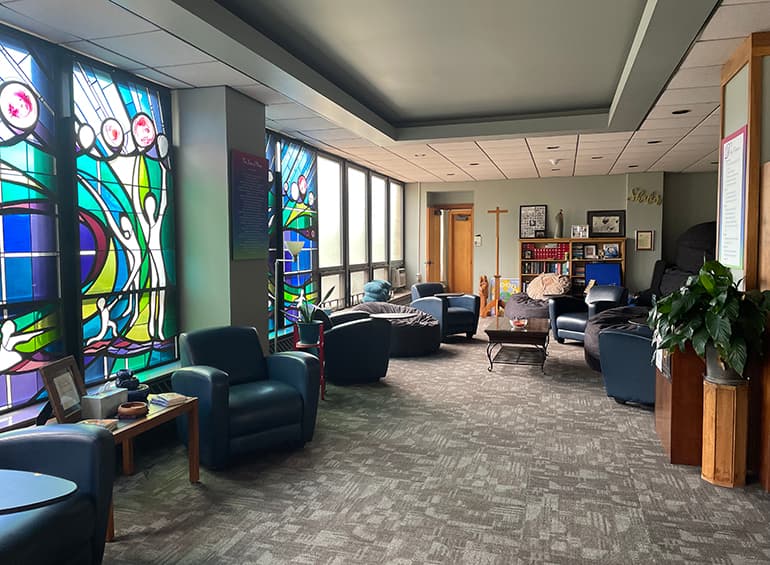 Mercy Place is now the site of the University Ministry Office, located on the first floor of Shiple Hall.
Please visit us weekdays 9:30 a.m. - 5:30 p.m. It is a lovely place to study, visit, get a cup of coffee/tea, have lunch or just chat. We are a place that offers free snacks and prayer resources too.
The space features a beautiful stained glass portrayal of young people who devoted their lives to living out their faith celebrating the youth and the continued life they give to our community. Mercy Place is a gathering space for Christian and Spiritual Life Communities and other student groups as well as a place of prayer and reflection for residential students.

Worship Schedule
 

On-Campus

McNichols Campus- Catholic Mass

Sacrament of Reconciliation: by appointment with

 the Jesuit Community at 

313-993-1663

 during normal business hours.

Mass is offered Sundays at 9 p.m. for students and staff/faculty in St. Ignatius Chapel (Commerce and Finance Building) and is also offered each Wednesday at noon in the same place. 

McNichols Campus- Islamic Prayer

Jummah: Fridays 1:15 p.m. to 2:30 p.m., Islamic Prayer Room, Reno Hall

 

Corktown Campus (Dental School) 

 Interested in joining a virtual small faith sharing group? Contact Dan Greig greigda@udmercy.edu for more information. 

Riverfront Campus (Law School Catholic Mass) 

 

 

Off-Campus

Catholic

Gesu Catholic Church

17180 Oak Drive, Detroit, Mich. 48221
Mass Times: Saturday at 5:30 p.m., Sunday 8 a.m. and 10:30 a.m.
Gesu Catholic Church also hosts a 12:20 p.m. Catholic Community Mass at St. Ignatius Chapel in the Commerce & Finance Building on the McNichols Campus.

Nearest Roman Catholic Church

Christian

16455 Woodward Ave

nue,

Highland Park

, Mich.

48203

313-869-0140

1841 Pinecrest Dr, Ferndale, Mich. 48220

28600 Lahser Rd, Southfield, Mich. 48034

6600 Rochester Rd, Troy, Mich. 48085

14179 Evergreen Rd, Detroit, Mich. 48223

13660 Stansbury Ave, Detroit, Mich. 48227

31650 Van Born Rd, Wayne, Mich. 48184

19801 Cherrylawn Avenue, Detroit, Mich.

17376 Wyoming Street, Detroit, Mich.

6330 Pembroke Avenue, Detroit, Mich.

20131 Wyoming Avenue  Detroit, Mich. 48221

3837 W 7 Mile Rd, Detroit, Mich.

19901 Kentucky, Detroit, Mich.

143 Albany Street Ferndale, Mich.

13110 Fourteenth Street, Detroit, Mich., 48238

Antioch M.B. Church 

18045 McDougall, Detroit, Mich. 48234

23500 W. Seven Mile Road, Detroit, Mich.

Jewish

1457 Griswold Detroit, Mich. 48226

Quaker

6227 Fort Street, Detroit, Mich. 48209

Buddhist

Detroit Zen Center

11464 Mitchell Street, Hamtramck, Mich. 48212

Stillpoint Zen Buddhist Temple

4345 Trumbull Ave, Detroit, Mich. 48208

Islam

Islamic Center of America 

19500 Ford Road, Dearborn, MI 48128 
313-593-0000       www.icofa.com

Hindu

Bharatiya Temple of Metro Detroit

6850 N Adams Rd, Troy, MI 48098     248-879-2552

https://www.troy-temple.org/

Other

Detroit Meditation Center

29610 Southfield Road, Southfield, Mich. 48076
Sacramental Preparation
 

Becoming Catholic and Learning about the Catholic Faith

If you're wondering about the Catholic Church, its beliefs and practices, or are thinking about becoming Catholic, come and explore with us. For those who are not baptized, we offer RCIA (Rite of Christian Initiation for Adults) from end of September to Easter each year. Please meet with the director to register for this sacrament.

If you are already Catholic, we invite you to join these sessions with those seeking the sacraments to strengthen and deepen your own knowledge and prayer life.

We offer sessions for those interested at times convenient for all.

Contact University Ministry 313-993-1560 or Anita Klueg at kluegag@udmercy.edu.

 

Catholic Sacraments: Confirmation & First Eucharist

If you were baptized Catholic, but now would like to make your First Communion or be Confirmed, we can do that! Contact University Ministry 313-993-1560 or Anita Klueg at kluegag@udmercy.edu.