Chapels/Spiritual Spaces
St. Ignatius Chapel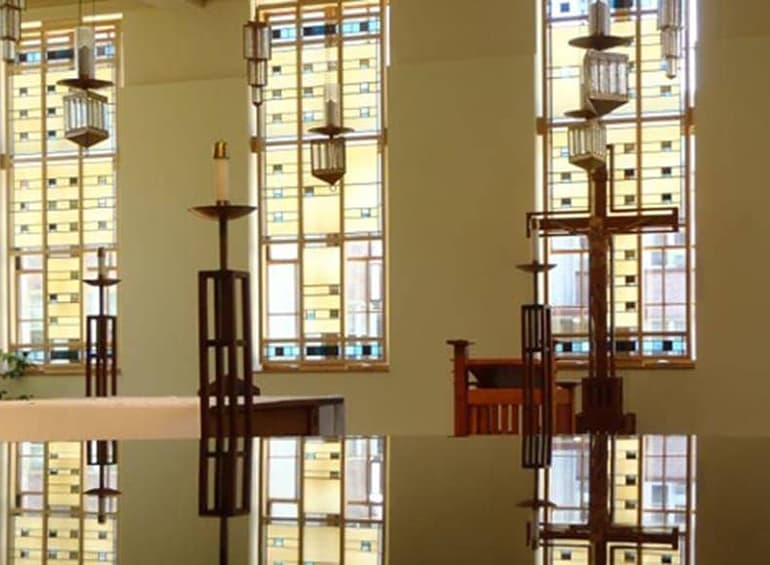 The St. Ignatius Chapel is a wonderful spiritual resource on the University of Detroit Mercy McNichols Campus. Located in the Commerce and Finance building, the combination of contemporary and traditional architectural forms found in the chapel makes it an ideal place for worship, prayer and reflection.
Catholic Mass is offered in the chapel. Please see the worship schedule for days and times. People of all faiths are welcome to the chapel and services.
Mercy Place / Temporary University Ministry Office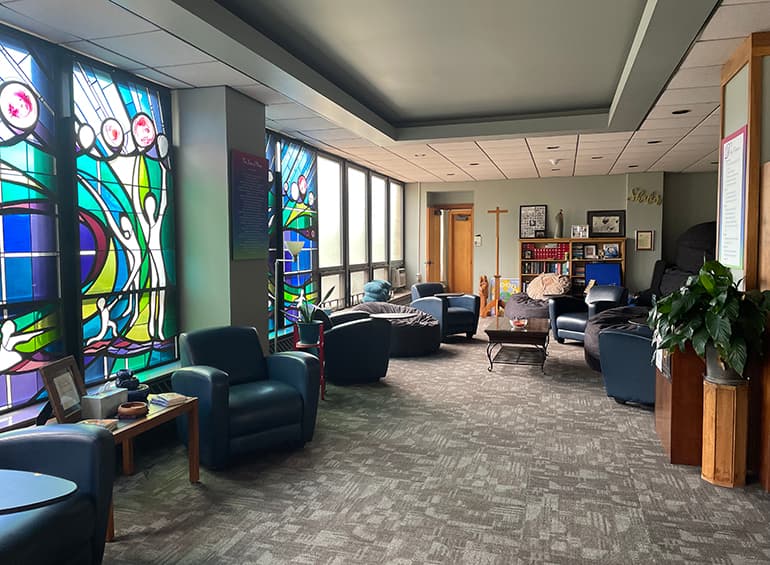 Mercy Place is temporarily the site of the University Ministry Office, located on the first floor of Shiple Hall.

Please visit us weekdays 9:30 a.m. - 5 p.m. It is a lovely place to study, visit, get a cup of coffee/tea, have lunch or just chat. We are a place that offers free snacks, great community and prayer/faith resources.

The space features a beautiful stained glass portrayal of young people who devote their lives to living out their faith. Mercy Place is a gathering space for social events, Christian and Spiritual Life Communities and other student groups, as well as a place of prayer and reflection for residential students.
Islamic Prayer Room/Mosque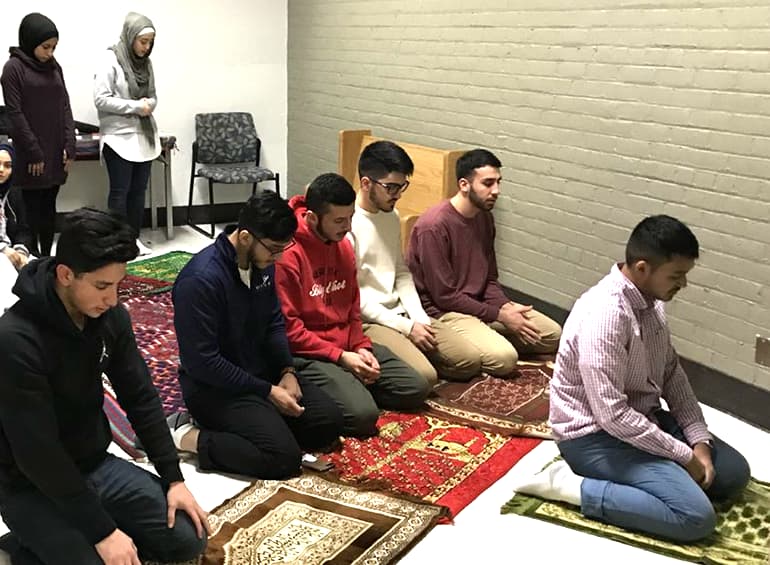 Islamic Prayer Room/Mosque is located on the ground floor of Reno Hall. Welcome to all Muslim students. There is an ablution space for wudu here. Please reach out to students in the Muslim Student Association or University Ministry for access to the room.
The Multi-Faith Reflection Room is on the ground floor of the McNichols Campus Library. Open to all students for prayer and reflection. There is a basket of prayer rugs for Muslim students' use.
Reflection Garden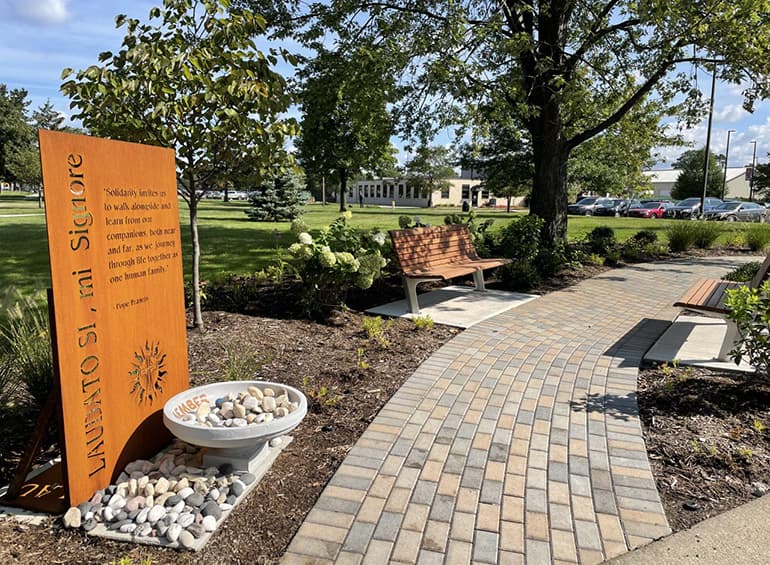 The garden is a place of beauty to sit, reflect and be with others. The Detroit Collaborative Design Center worked with the University Ministry Office and focus groups of students and employees on campus to create the beginnings of this garden. Thanks to a donation from the Brolick family we have been able to complete Phase One of the project. Fundraising efforts will help us complete the final phase.
Take a moment to remember
Please take a moment this year to remember those we have lost and the learnings of this pandemic that we want to remember. The Detroit Mercy community is invited to build rock towers, add a rock with a name or learning to the bowl, or just sit, reflect and pray.
 

Campus Worship Schedules

McNichols Campus- Catholic Mass

In-person Mass will begin on Sunday Jan. 23. at 9 p.m. and Daily Mass will begin the week of Jan. 24.

Mass is offered during fall and winter semesters at St. Ignatius Chapel-McNichols Campus:

Sundays at 9 p.m.

Tuesdays and Thursdays at 12:45 p.m.
Wednesdays at Noon. 

There will be no Mass offered on Mondays or Fridays

Reconciliation

Reconciliation will be offered the 2nd Sunday of every month at 8:30 p.m. in the glass conference room across from St. Ignatius Chapel, and also every Saturday, 4 - 4:45 p.m. at Gesu Church (across McNichols Rd) OR by appointment with the priests below:

McNichols Campus- Islamic Prayer

Jummah: Fridays 1:15 p.m. to 2:30 p.m., Islamic Prayer Room, Reno Hall

Corktown Campus (Dental School) 

 Interested in joining a virtual small faith sharing group? Contact Dan Greig greigda@udmercy.edu for more information. 

Riverfront Campus (Law School Catholic Mass) 
Sacramental Preparation
 

Becoming Catholic and Learning about the Catholic Faith

If you're wondering about the Catholic Church, its beliefs and practices, or are thinking about becoming Catholic, come and explore with us. For those who are not baptized, we offer RCIA (Rite of Christian Initiation for Adults) from end of September to Easter each year. Please meet with the director to register for this sacrament.

If you are already Catholic, we invite you to join these sessions with those seeking the sacraments to strengthen and deepen your own knowledge and prayer life.

We offer sessions for those interested at times convenient for all.

Contact University Ministry 313-993-1560 or Anita Klueg at kluegag@udmercy.edu.

 

Catholic Sacraments: Confirmation & First Eucharist

If you were baptized Catholic, but now would like to make your First Communion or be Confirmed, we can do that! Contact University Ministry 313-993-1560 or Anita Klueg at kluegag@udmercy.edu.