Detroit Mercy president elected to Council for Higher Education Accreditation Board of Directors
Share: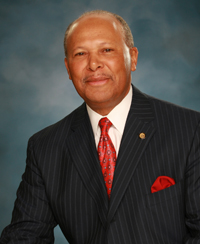 Detroit Mercy President Antoine M. Garibaldi, Ph.D., was recently elected to the Council for Higher Education Accreditation (CHEA) Board of Directors effective July 1, 2019.
CHEA is an association of 3,000 degree-granting colleges and universities, and a national advocate for self-regulation of academic quality through accreditation. The organization recognizes 60 institutional and programmatic accrediting organizations.
Garibaldi is the 25th and first lay president of University of Detroit Mercy. Since Dr. Garibaldi joined Detroit Mercy in June 2011, enrollment has increased; the endowment has risen by 140 percent; a $100 million fundraising campaign goal was exceeded a year early; and a major economic development organization near the main campus was co-founded with a national foundation in 2015.
As a noted scholar and longtime leader in higher education organizations, Garibaldi is nationally known for his senior executive administrative, financial and strategic planning skills, as well as his expertise in developing significant collaborations with local communities, government agencies, philanthropic and non-profit organizations.
To read the CHEA press release regarding this appointment, please visit https://www.chea.org/new-members-chea-board-directors-and-executive-committee-take-office. For more about the Council for Higher Education Accreditation, please visit https://www.chea.org/.
Share: