Detroit Mercy Brand
Following the Brand Standards Guide ensures clear and consistent communication of the University's identity. The Guide states specific directions on the use of the University's official identity elements: logo, crest, typeface, school colors, etc. on printed materials and other special applications.
Questions?
For answers to questions and resolutions of issues not covered by the Brand Standards Guide, please contact the Marketing & Communications department at 313-993-1254 or visit the Marcom site here.
Logos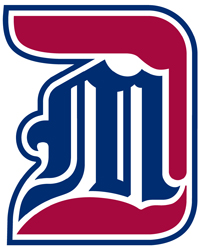 The University of Detroit Mercy has two primary logos/wordmarks (the logo and crest) to identify itself in public, on the Detroit Mercy website and in internal documents. Each has a specific policy governing print and electronic use. You can download logo image files. Any questions or requests/exceptions regarding Detroit Mercy's identification policies must be referred to the Department of Marketing & Communications at 313-993-1254. For information related to Athletics logos, contact the Athletic Department.